Please don't get us wrong, we love Carrie Underwood and are amazed at everything she has accomplished since winning American Idol season 4. However, we were really not all that pleased to find out she would be taking the starring role in a live remake of one of our very favorite classic films, The Sound of Music. In our hearts, no one could ever replace Dame Julie Andrews as Maria Von Trapp.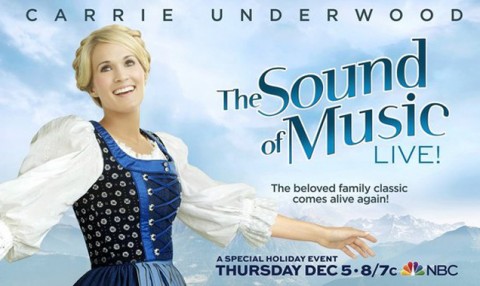 However, as Julie Andrews herself said on
Twitter
, it has been fifty years and we guess "it's time somebody had another crack at it." After all, Hollywood is remaking everything else these days, so why not
The Sound of Music
? We might be cringing a little on the inside, but we're determined to try to watch Carrie Underwood do her own version without pre-judging her because she isn't Julie Andrews.
We're still not quite sure why producers for
The Sound of Music
live version decided on Carrie as their first choice to do the remake, but apparently they didn't want anyone else. We could think of some singer/actresses who might have fit the bill better (for instance, been a bit older) but Carrie was the one they wanted. Although she hasn't done a lot of acting in the past, with only a few limited roles previously, we'll give her the benefit of the doubt. She certainly does look adorable in the promo photos for the special. Although we do think she looks more like someone who should be Liesl's sister than her stepmom…
(Click the thumbnails for bigger pics – Source: NBC)
What we can't really quite wrap our heads around yet though is True Blood star Stephen Moyer (aka Vampire Bill) playing Captain George Von Trapp. We know he's an accomplished actor who has musical experience. But… We're just going to keep expecting him to bust out fangs and start eating the children at any moment…
Will you be tuning in to watch Carrie Underwood in The Sound of Music live tonight on NBC at 8PM ET? Or are you one of those folks who has decided to boycott the remake because you think it should have never been done?