Former American Idol winner Ruben Studdard says there was no conspiracy to bring him back to The Biggest Loser 15 after he was eliminated the first time. In a press conference call this week after his second elimination, the "Velvet Teddy Bear" insisted his return to the show was all about fairness and there was no nefarious plot to get him back on The Biggest Loser to boost ratings.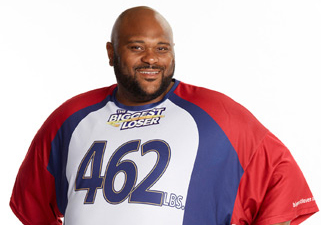 After Ruben Studdard failed to lose enough weight and fell below the red line on
The Biggest Loser 2013
several weeks back, most fans watching the show thought they had seen the last of him. Some viewers, however, were convinced that fan favorite Ruben would end up back on the show somehow. Turns out those who thought
The Biggest Loser
wouldn't go long without its celebrity contestant this season were right.
In the next episode after Ruben was eliminated, coach Jillian Michaels was penalized for giving her team caffeine pills, which she claimed were safer than drinking endless amounts of coffee. Since these pills can help you to lose weight and were not approved by staff doctors, Jillian's team was punished and the results of the previous weigh-in thrown out. Ruben Studdard was back in the game. For a little while at least. He got booted once again this week for failing to lose enough weight.
Ruben Studdard is eliminated from The Biggest Loser 15 for the second time.
Jillian Michaels seemed to be seriously pissed about being thrown into the spotlight as a 'bad guy' guilty for Ruben's untimely elimination. She believed that she had done nothing wrong in giving her team 
caffeine
 pills when they had coffee available anytime they wanted and said so quite frankly. She even retweeted a fan who said it was all a conspiracy theory to get Ruben back on the show for ratings, telling the person they were "spot on" with their comment.
Despite mass outcry that the producers of The Biggest Loser 15 somehow conspired to have an excuse to bring Ruben back, the American Idol soul singer says isn't so. "I don't think that happened," Ruben said, according to E! Online. "I have no control over what people decide to do. My only concern was my health and coming back to the show, so I don't think at all it was a conspiracy to bring me back because they were all sad that I had to leave.
Ruben, who was eliminated for the second time this week, said he doesn't think anyone wanted him back "more or less" than any other contestant. "It was just something that happened. And because of fairness issues, they brought me back."
Even though he was kicked off the show twice, Ruben is still in the running for the at home prize on the Biggest Loser 15 and has lost at least 104 lbs already since he started on the show.