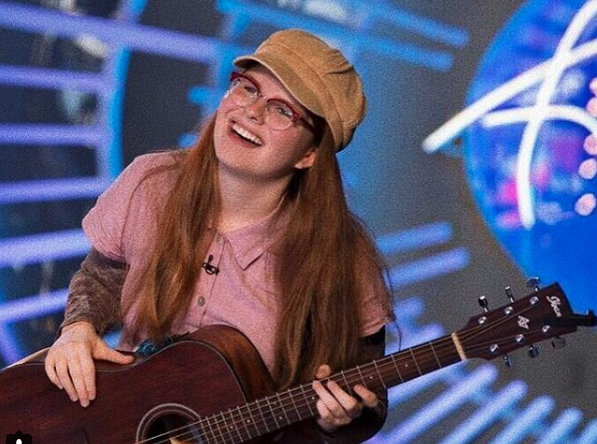 Catie Turner is a Top 14 finalist on American Idol 2018. The Top 14 for Season 16 has been revealed thanks to American Idol Spoilers earlier this year and we've since seen her performance as part of the season premiere and series return to television on ABC.
This is Catie Turner's first attempt at American Idol and the 17-year-old high school student from Langhorne, PA is making the most of it! Her performance of her original song, "21st Century Machine" impressed the judges and netted her a Golden Ticket to Hollywood, but she didn't stop there.
Spoilers reveal that "Hashtag Catie" not only made it to the Top 24 this season after clearing Hollywood Week and the green mile, but she's also survived to make it to the live shows starting in late April. That's a good bit better than her self-admitted two failed attempts at making it on The Voice.
Turner's performance in the season premiere netted her some great praise from the new judges, as Philly.com reports:
Perry commented that she loved "where [Turner's] mind's at," while Bryan said she is "interesting and brilliant beyond [her] years. Richie, however, compared her to a space alien. In a good way.

"Every once in a while, a Martian lands, and we happen to see the Martian," Richie said. "I cannot tell you how wonderful it is to see you. I'm just fascinated with your brain."

After making her promise to not look at social media because he didn't want "the outside world to mess with" Turner's head, Bryan agreed to push her through. Richie and Perry agreed.
You can find more of "Hashtag Catie" on Instagram, Twitter, on Facebook, and even on YouTube with some of her original performances.
Catie Turner sings "21st Century Machine" on American Idol 2018:
Catie has a YouTube channel where she offers up a few more performances for her fans.
Catie Turner sings "Fall Song"
Catie Turner sings "Primadonna"
Keep watching American Idol to see Catie's next performances and see how she does in the Top 14!