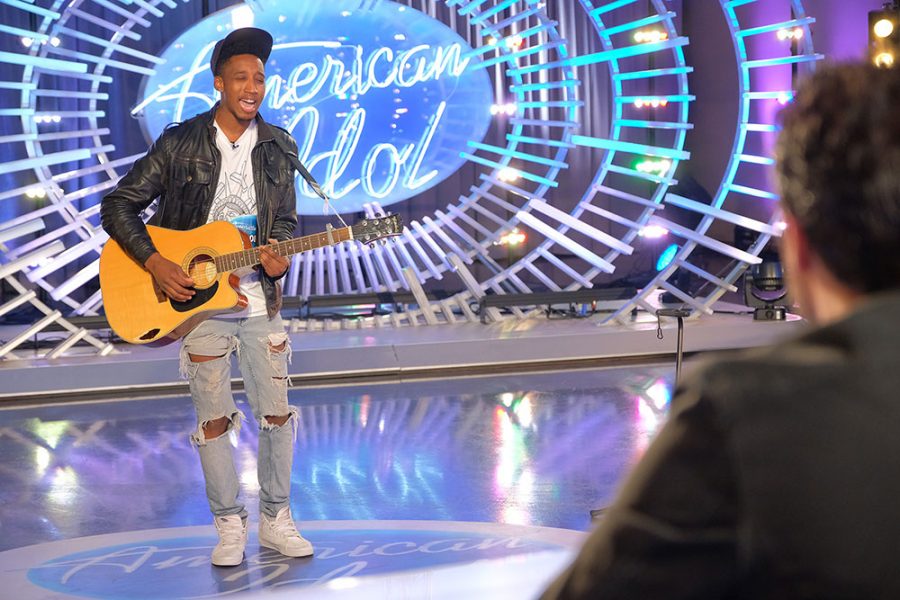 American Idol 2018 made it's triumphant return Sunday night with a touching voiceover intro from Carrie Underwood.
I have to say, I expected to see something new with this resurrection of American Idol. But it felt like the same show. So I guess that's what they were going for. I'm hoping that isn't the downfall of this show, but time will tell. Overall, the premiere was solid with a lot of talent and some great chemistry from the judging panel of Lionel Richie, Katy Perry and Luke Bryan.
The first round of auditions were set in New York City and Los Angeles and we saw a lot of golden tickets be handed out right out of the gate. Let's take a look at the auditions showcased on the first night of Idol's return.
Catie Turner, 17, Langhonre, PA. Catie is the first up. Quirky. Singer-songwriter. "21st Century Machine" original song. Wow. Put that song on the radio today. I don't love her voice, but I thought the song was brilliant. That was a B+ audition. She gets the first golden ticket to Hollywood!
Ron Bultongex, 21, Plano, Texas. He sang "Let it Go" by James Bay. He came with a story as a Congo refugee. He came to American seeking the American dream and now he's hoping to be the next American Idol. His audition was touching and his story was inspiring, but his music style was basically an imitation. That was another B+ audition. He does not get the golden ticket — at first. An hour later, Lionel Richie changes his mind and has Ron brought back. They decide to give him his ticket to Hollywood. They want those emotional eliminations later, so this is going to be one. You heard it here first.
Maddie Poppe, 19, Clarksville, IA. A girl with a guitar, much like Caite, but probably a better voice. She performed "Rainbow Connection" and impressed the judges. I'd say that was a B- audition, but the judges send her onto Hollywood.
Koby, 26, Denver, CO. She is a musical theater performer but brought her own song. And I couldn't really tell that was a song. I thought ABC said there were going to be no bad auditions. This was not a good audition. She just did a bunch of runs and screaming. Katy tells her she's not a pop star. And this girl argues. She gets a bunch of noes and rightfully so. That was a D audition.
Harper Grace, 16, McKinney, Texas. So Harper is known as he worst National Anthem singer (keep in mind this was filmed before Fergie's recent rendition). That was 6 years ago, so she's a better singer now. And she writes her own music. Her song was cute and her voice was a bit like Miranda Lambert, but I think she's a pretty strong performer for 16. I give that audition a A- and they give her a golden ticket! She's off to Hollywood.
Layla Spring 16, Marion County, KY. "Who's Loving You" by the Jackson 5. I think Layla just picked the wrong song. She's straight-up country should've sang something country. I'd give the audition about a C- but I do really like her. She just needs to grow. A lot. But they send her to Hollywood to help her grow. Don't expect her to make it beyond that point, but she's a sweet girl and seems to have a great heart. That will be a great experience for her.
Benjamin Glaze, 19, Oklahoma. Well he has the name of a star. And actually, I think he also has the persona of a star, but he is lacking the voice a bit. He didn't get a golden ticket, but he got his first kiss from Katy Perry.
Nico Bones, 22, Long Beach, CA. Well, this was an interesting guy. He decided to do a punk version of the children's song "Worms" and I think he burped. But I was looking down at my notes. Someone burped. Maybe it was Luke. I give that audition a big fat F. And he does not get a golden ticket. Thankfully.
Noah Davis, 18, Royal, Arkansas. This was a fun guy. Katy loved him too. And his audition was great. He took control of the piano with "Stay" by Rhianna. He doesn't quite have that star look, but his voice and piano skills were there. I loved him. I give him an A+ for that audition. He gets his ticket to Hollywood. Wig.
Alyssa Raghu, 15, Orlando, FL. She is a perfect singer. And she's only 15. She by far, had the best voice of the night. That was definitely an A+ audition. She obviously gets three yeses and her pass to Hollywood.
Sardor Milano, 26, Orlando, FL. Apparently this guy was on The Voice Russia. But I don't know how. I mean he has a voice with a range, but like he can't actually sing. That was an F audition. And he does not get a golden ticket.
Zach D'Nofrio, 16, Florida. Well this guy was a lot of fun. He has a bit of a crooner's voice, but it's not good. I think he could become a good singer though, but after some work. But I'd give it D. But the judges loved him. I'm confused, but I like his so I look forward to seeing him in Hollywood.
Dennis Lorenzo, 26, Phiadelphia, PA. And they saved the best for last. His audition was completely natural and he was just completely in the zone. He's got star power and I think we'll be seeing a lot of him this season. He gets an A+ from me and a golden ticket from the judges.
What did you think of the first round of additions? We'll be back tomorrow night with more auditions.
If you want to see if any of these contestants actually make to the American Idol 2018 live shows, check out our American Idol 2018 Top 14 spoilers.
American Idol 2018 Season Premiere Photo Gallery