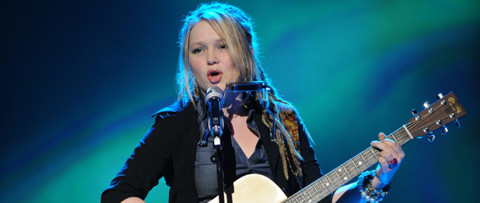 Last season's American Idol runner-up, Crystal Bowersox, sat down with MTV News and had a few things to say about all the changes that Nigel Lythgoe is rolling out for the new season. Spoiler: She isn't the biggest fan of everything they're doing to shake things up. Don't miss the video below.
When asked for her thoughts on the upcoming season of the show — which reportedly will have an increased focus on "reality TV" elements like the contestants making music videos and living in a house together, in addition to new judges Jennifer Lopez and Steven Tyler — Bowersox wasn't shy about expressing some reservations.

"I think that 'American Idol' producers … were a little disappointed on how many rootsy, folksy people they got. And they're really looking for a pop icon to come through. But, I don't know, we'll see what happens," she said. "With Steven Tyler as a judge, you'd think you want to stay with that rootsy-rock thing, but then there's J.Lo, and Randy's still there. It'll be interesting to see what happens next season."
I think we're all going to be interested in seeing how it turns out and luckily we're down to just a month left until the big premiere!