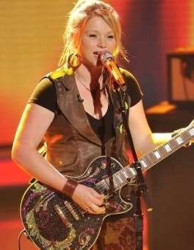 Congratulations go out to American Idol's Crystal Bowersox on the news of her engagement to fellow musician Brian Walker. People reports the news which was relayed to them by Bowersox's own publicity, making rather well confirmed:
Crystal Bowersox, the American Idol runner-up, is engaged to musician Brian Walker and they plan to tie the knot next month, her rep tells PEOPLE exclusively.

It's the first marriage for Bowersox, 25, who has a son, Tony, 1 ½, from a previous relationship. Bowersox is currently recording her debut album.

As her career takes off, her love life has also been on fast-forward.
Brian Walker has been credited with naming the Idol runner-up with the moniker "Mama Sox." Look for the happy couple to tie the knot in October before some sort of inevitable coupled tour. What do you think of Crystal's exciting news?