American Idol 2016 heartthrob Dalton Rapattoni is no stranger to the pressures of the music business. Before auditioning for the final season of the show, he was actually a member of a relatively successful boy band called IM5 — founded by American Idol creator Simon Fuller.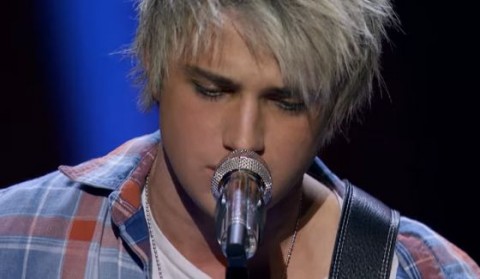 After the leaving IM5 when he realized his music was going in a different direction than the band, Dalton revived his previous band Fly Away Hero before going solo to audition for American Idol season 15. Needless to say, he was much better prepared than many hopefuls when he went before the American Idol judges for his audition. (Read more on Dalton's backstory on his Top 24 profile page.)
Audition: Jennifer Lopez was immediately taken with how cute 19-year-old Dalton Rapattoni was at his audition. His beautiful, acoustic rendition of the song "Nightwish" from The Phantom of the Opera, however, was even more impressive for the judges than his great rocker look. All of the celebrity panel members were loving on Dalton's performance and gave him a hearty three yes votes to move on to Hollywood.
Hollywood Week Lines of 8 Solos: Dalton continued to give the American Idol judges more to love with his Hollywood Week solo performance of "California Dreaming" by The Mamas and The Papas. There was virtually no doubt after watching him give an awesome rendition of the song that he would be moving on to group round.
Hollywood Week Group Round: One of Dalton's teammates, Poh Scott, quit during the group round rehearsals, leaving him and Kassy Levels desperately searching for a new member to meet the minimum number of participants to perform. They finally hooked up with Anatalia Villaranda, but had very little time to practice and get everything worked out for their appearance on stage. Thankfully, it all worked out well enough, as all three members survived the Group Round cut.
Hollywood Week Solo Round: Dalton's next solo performance of "Hopelessly Devoted to You" from Grease was a fan favorite, showing off both his vocal abilities and strong stage presence. The American Idol judges once again loved his song choice and how unique he is as a competitor.
Showcase Round & Final Judgement: Although Dalton felt uncertain about making it into the American Idol Top 24 based on how strong his competition was, his Showcase Round performance of "It's Gonna Be Me" by N'SYNC was one of his best showings in the competition to that point. We were sure the American Idol judges would put him through to the next round during The Green Mile cuts, and that's exactly what they did.
Top 24 Semi-Finals Solo Round: For American Idol Top 24 solo, Dalton Rapattoni took on "Rebel Yell" by Billy Idol and captivated the judges and the audience with his soulful blue eyes and rocking performance. Jennifer Lopez screamed out his name before his critique and said that not only is he "as pretty as he can be" but she absolutely "loved" him. Harry Connick Jr. said it was "phenomenal" and "tremendous" and Keith Urban told Dalton he just never disappoints.
Top 24 Semi-Finals Duet Round: Going up on stage with an American Idol star like Chris Daughtry — who many thought really should have won his season — was no easy prospect for Dalton, who idolizes the rocker . But when Dalton was teamed up with Daughtry for his Top 24 duet, he didn't let the experience intimidate him and held his own on stage. Their performance of "Higher Ground" was one of the best duets of the Top 24, and assured Dalton a place in the Top 14.
Will Dalton Rapattoni make it through the next cut to be part of the American Idol 2016 Top 10? We'll bring you all the latest American Idol spoilers on the next round of the competition as they happen!