American Idol 2016 finalist Dalton Rapattoni was one of the lucky four contestants passed directly to the season 15 Top 10 by the judges. Honestly, we think the American Idol judges wasted  a choice there, as there is very little doubt the viewers would have voted Dalton through. The former boyband member has consistently ranked very highly on various American Idol favorites polls and has extremely strong and vocal social media support.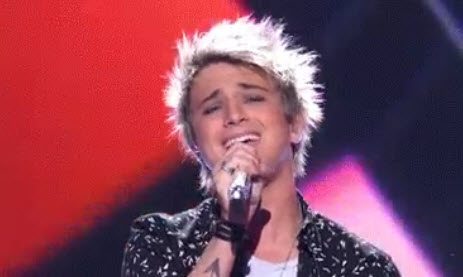 Dalton chose "Hey Delilah" by Plain White T's for his American Idol Top 10 solo and it was a terrific pick for him. Although it may not have been the best performance of the season he's done so far, it was highly engaging and entertaining. We can't help but think Dalton is in it for the long haul. Not only does he have a legion of fans, but he's really quite fun to watch on stage.
Keith Urban told Dalton that he really loves what Dalton does with his song choices and his confidence on stage. Jennifer Lopez, of course, brought up how all the girls really freak out over him and how good he is about connecting with the audience. Guest judge and original American Idol winner Kelly Clarkson told Dalton he is always showing off a different side of himself on stage, which really demonstrates his artistry. Harry Connick Jr. loved the performance and told Dalton he is batting a thousand!
Will this hopeful singer be chosen by the fans to join the already chosen special few and move on to the next round of American Idol 2016? Be sure to check out our guide on how to vote for American Idol and ensure your favorites get through to the next round!