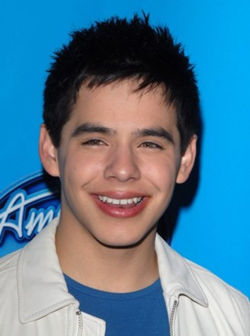 Former American Idol hopeful David Archuleta is about to launch his Christmas tour, "My Kind of Christmas 2011," when he lands in New York this Thursday. He'll jump from coast to coast for a 13 city stop in the run up to Christmas which just happens to be some of Archuleta's favorite music:
"I feel like Christmas songs are already epic," he says, "and to be able to have a full choir and orchestra back you up makes it even more epic. You just feel like there's this amazing field of energy up there.

"Everyone puts a lot into that performance. Sometimes people go, 'That Mormon Tabernacle Choir, they're always so smile-y and stuff.' I guess that's because they're loving what they're doing. That's what makes them so magical when they perform."
There are tickets still available in 11 of the 13 cities, so if you're an Archuleta fan then here's your chance to see him perform this month. Check out his official site for the full tour listings.
Listen in as David talks about the upcoming tour:
Source: Idol Chatter