One of the duets we were most looking forward to hearing on Thursday night was the combo of American Idol winner David Cook and Olivia Rox. We thought the pairing of these two together on David's fabulous song "Light On" was a terrific choice and they did not disappoint. This was one of our favorite duets of the night, and we just can't wait to see what Olivia will do next!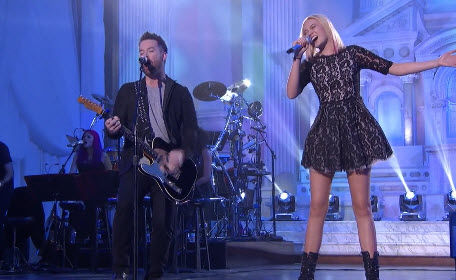 The American Idol judges have been loving on Olivia Rox during the whole competition so far, and tonight was no exception. Keith Urban said the young singer's tour t-shirts are just going to say "Olivia Rox, yes she does." Jennifer Lopez said Olivia's voice is "phenomenal" and if she finds her groove and the right songs, she's going to "be around for a long time." Harry Connick Jr. said the show is lucky to have Olivia, and she did a great job.
CHILLS. ALL. OVER. @thedavidcook and @oliviarox just crushed that performance! #IdolDuetshttps://t.co/sylXT0j34r

— American Idol (@AmericanIdol) February 19, 2016
Check out the Olivia Rox Top 24 profile page for more information on this talented young singer. Find out what's coming next on season 15 on our American Idol spoilers page!