American Idol star Kellie Pickler told season 15 contestant Tristan McIntosh that watching the young singer's audition made her and her husband cry. Kellie was very excited to get to perform one of her songs with Tristan, and we were delighted by their rendition of "Best Days of Your Life" for the American Idol judges!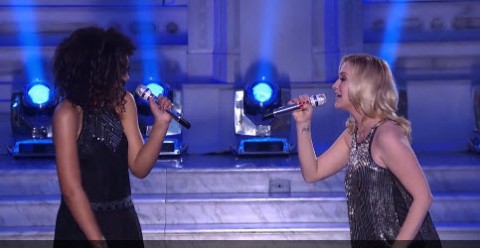 Although we thought the duet was a lot of fun to watch, the judges seemed to feel it was a little weak. Harry Connick Jr. thought the duet was "pretty darn good" but did give Tristan McIntosh some advice on how she could polish her performance in the future. Keith Urban felt the song was a bit "tricky" and "shaky" in a few parts. Jennifer Lopez feels that Tristan has an "amazing voice" but that you could see her inexperience on the stage.
Check out the Tristan McIntosh Top 24 profile page for more information on this talented young singer. Find out what's coming next on season 15 on our American Idol spoilers page!