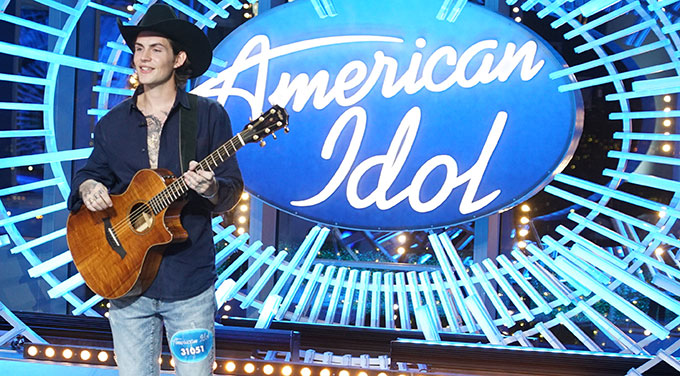 American Idol 2020 auditions continued on Sunday night, and Dillon James wowed the judges with his version of Boy Dylan's "Make You Feel My Love."
Dillon first captured the judges' attention with his story of overcoming alcohol and drugs to find his way through music. Then he revealed that he can actually perform, and perform well with emotion and poise. There's something special about Dillon, so I think we can expect to see a lot more of him. You can see his audition from Sunday night below. Let us know what you think. Does Dillon have what it takes to the the next American Idol? I'm not sure if he can go all the way, but I'm ready to see and hear a lot more from him.
It turns out, based on some tweets I saw, that Dillon actually had a brief acting career in Hollywood and that's where he found issues with drugs and alcohol. He actually has some credits to his name on IMDB. So that is more proof that Dillon has just got what it takes for show business.
Be sure to check out our recap of Sunday night's episode featuring the third round of auditions: American Idol 2020 Episode 3 Recap: Judges Find 'Top 10 Material'
Also, check back tomorrow for our rankings of the Top 5 auditions from this week. And stay with us all season as we deliver American Idol 2020 recaps, results, rankings and any spoilers we can find. If you aren't following us on Facebook or Twitter, be sure to do that as well so you don't miss any of our Idol cover.
Dillon James, "Make You Feel My Love"
RELATED: Want to find out who makes it into the top 20? Check out our American Idol 2020 Top 20 Spoilers.