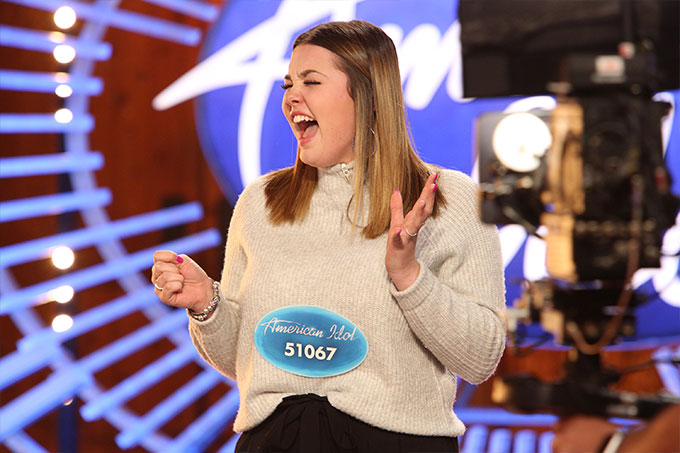 American Idol 2020 continued on Sunday night as the judges settled into the third round of auditions. And it was a another great night of talent, as the judges even claimed they found someone who is Top 10 material.
Let's take a look at the standout auditions from Sunday night.
Kimmy Gabriela, "Let's Hurt Tonight." Kimmy has a sweet and tender voice but also some power there. Her audition was an A+ one because she told a story with her performance and didn't miss a note. That was a great audition to start the episode out with. She gets an easy pass to Hollywood after they tell her she's Top 10 material. > SEE KIMMY'S PERFORMANCE HERE
Amelia, "Yesterday." We didn't get a story or anything or a full audition, but it was so sweet and natural. She got a pass to Hollywood, so maybe we will see more of her.
Lauren Mascitti, "If I Can Lose You." She has the look and her fiancé is a famous songwriter, so I'm not sure why she needs American Idol. Seems like a plant to me. But she is a pretty solid singer. There's something that's lacking, though. I can't put my finger on it, but it wasn't anything I really wanted to hear more of. But she's off to Hollywood, so maybe I'll see something else then.
Ryan Harmon, "I Knew This Would Happen." I didn't expect to like his audition because I'm never too keen on the country guys, but I really liked him. I loved his tone and the song, written by him, was pretty incredible. I liked him a lot but for some reason the judges weren't feeling it. That makes no sense to me. I guess this just proves I know nothing about country music.
Courtney Timmons, "Rise Up." So she literally just came in off the street for an audition, but for someone who didn't go through the full idol process, that was a pretty solid audition. I think she should have stopped before her end notes, but other than that it was really good. And the judges are floored and decide to send her to Hollywood. Even Ryan cries at how this all came about. What a great story.
Lauren Spencer-Smith. "What About Us." This girl is really, really young, but her voice and performance style is definitely well beyond her years. She's definitely stage and radio ready. I don't have anything critical to say about her at all. We are going to see and hear a lot more of her I bet. She's off to Hollywood! > SEE LAUREN'S PERFORMANCE HERE
Dewayne Crocker Jr., "Don't Worry, Be Happy." Well this was an interesting song choice, but he put a really cool spin on it. He's got that church singer passion and power in his voice, so he's definitely going to do well on Idol. He's just such an artist. I'm a fan. And so are the judges. He gets his ticket to Hollywood.
Dillon James, "Make You Feel My Love." This guy just has star power. He has the look, the name, the persona, the history. And he has a really gentle voice and a smooth tone. And he sings with the motion and pain that he lived for a few years. There's definitely something there with this guy and the judges agree. He is headed to Hollywood. > SEE DILLON'S PERFORMANCE HERE
Jared Lettow. This wasn't any kind of groundbreaking audition, but the yodeling was worth mentioning here. I don't think we will see him again in the American Idol universe though.
Shannon Gibbons, "I'd Rather Go Blind." I love this song so much, so maybe I'm biased, but I loved this audition. I don't know if she's a superstar, but I definitely enjoyed the performance. And so did the judges. She's Hollywood-bound.
Isaiah Grass, "Take On Me." This guy is really full of himself. He's an OK singer, but it all seemed more like karaoke to me. And the judges see that he's not American Idol material. He does not get a pajkiss to Hollywood.
Genavieve Linkowski, "How Am I Supposed to Live Without You." I'm not sure why this was saved for last because I didn't enjoy it. Her story was touching, but her voice was not pleasant in my opinion. I'm just being honest here. The judges liked her though, so that's all that matters. She is once again off to Hollywood (after going two seasons ago).
Want to find out if any of these American Idol hopefuls make it beyond Hollywood Week? Check out our American Idol 2020 Top 20 spoilers to find out.