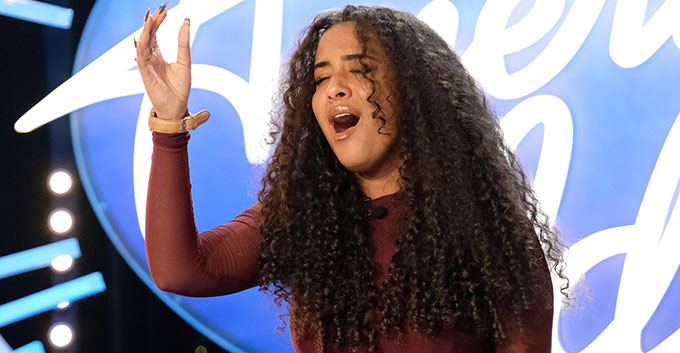 We could be looking at the next American Idol here with Kimmy Gabriela. If not THE idol, possibly one of the members of the American Idol 2020 Top 10.
The judges actually called her "Top 10 material" during Sunday night's audition episode. Luke Bryan said "from the first note, I was like yep." And Lionel Richie wrote down "star" in his notes during her audition.
Kimmy says she was inspired by her father, who was a singer when he was younger, and even had some music videos. So music is clearly in her blood. How far will she go in this season of American Idol? We can't wait to find out.
What did you think of Kimmy's audition? If you haven't watched yet, be sure to check it out below and let us know what you think. Is she Top 10 material? Could she be the next American Idol?
Be sure to check out our recap of Sunday night's episode featuring the third round of auditions: American Idol 2020 Episode 3 Recap: Judges Find 'Top 10 Material'
Also, check back tomorrow for our rankings of the Top 5 auditions from this week. And stay with us all season as we deliver American Idol 2020 recaps, results, rankings and any spoilers we can find. If you aren't following us on Facebook or Twitter, be sure to do that as well so you don't miss any of our Idol cover.
Kimmy Gabriela, "Let's Hurt Tonight"
RELATED: Want to find out who makes it into the top 20? Check out our American Idol 2020 Top 20 Spoilers.