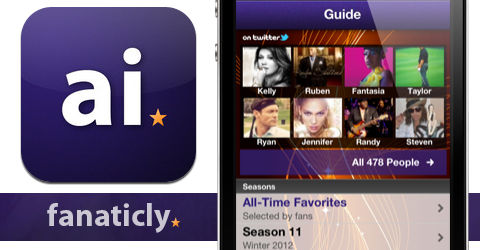 Fanaticly has released a new American Idol app for the iOS family (iPhone, iPod touch, & iPad) and they asked us to check it out. After playing around with it for awhile yesterday I decided it was fun enough to share with you. As an added bonus I've got 5 copies of the app to giveaway for free to a few lucky readers. Read on for details. No time for details? Less yapping, more app'ing? Download it here.
Giveaway details – How to win a free Fanaticly AI app:
Read our review of Fanaticly's AI app
Check out Fanaticly's website for more details
Leave a comment below stating your favorite Idol contestant
We'll random select and notify 5 winners on Saturday
At its core Fanaticly's AI app is a rather extensive database filled with every performance from every season and episode. They've seriously got everything in there. 2,100+ performances, 1,500+ songs, 500+ singers, and all the guests from all 11 seasons so far. You can scroll back and check who sang what in Season 8, Week 9. Adam Lambert covered "Born To Be Wild" that week, for example.
Along with historical and statistical information, you can play YouTube clips for the performance or original artist. Listen to a random performance by shaking the slot machine feature and seeing what comes up next. I ended up going through quite a few songs and finding clips to watch them all.
Fanaticly's American Idol app even works as a live show companion with a tab dedicated to voting via phone and texts. There are links to automatically dial the numbers for you, but you have to know who belongs to what number that week. You can assign a singer's photo to the number, but I'd have preferred to see that happen auto-magically for me.
Overall I think it's a pretty cool American Idol app and a worthy tool for any dedicated fan. Check out the app and all its details at Fanaticly.
Ready to win a free copy of the app? First check out Fanaticly's site and then leave a comment below telling us who is your favorite Idol singer. We'll pick five winners on Saturday and notify them. Good luck!
Disclosure: No, we were not paid or compensated in any way for this review.