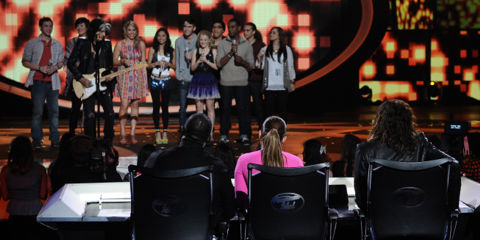 It's American Idol results time for the 2012 Top 10 elimination show! One of the remaining finalists will go home unless the Judges Save is put in to play, but if not you'll still get a chance to see this singer again on the summer tour.
We've gone through our elimination predictions for tonight. The poll results have shifted a little since this morning, but Branden and I are both still expecting a DeAndre Brackensick elimination. If he does receive the fewest votes then I won't expect the judges to save him.
Get the new Idol app for FREE. We're giving away 5 copies to our readers. Just leave a comment on our app review post and we'll pick winners this Saturday.
While we wait for American Idol results, join us on Facebook and Twitter.
American Idol 2012 Top 10 – Bottom 3:
DeAndre Brackensick – Ryan reveals DeAndre is safe
Erika Van Pelt
Heejun Han – Ryan reveals Heejun is safe
Now Erika will have to sing for the Judges' Save. Did it work?
No, it didn't work. Erika was voted out for the second time this season. I don't blame the judges. They can't use it on someone who wasn't a fluke with the results.
American Idol 2012 Top 10 – Elimination Result:
The following singers are safe and make up your American Idol 2012 Top 9:
Hollie Cavanagh
Skylar Laine
Elise Testone
Jessica Sanchez
Joshua Ledet
Colton Dixon
Phillip Phillips
DeAndre Brackensick
Heejun Han
What do you think of tonight's results on American Idol 2012?