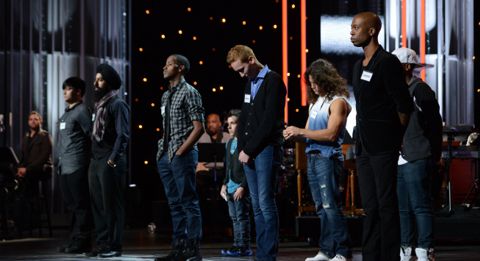 Tonight on American Idol 2013 the show revealed a new twist for the guys who made it through Hollywood Week. Or so it seemed. Just when you thought you knew who had survived the big round of eliminations this week it was revealed that more cuts were in store.
Over the past two nights we saw 28 guys get the stamp of approval, but that's a high number when it comes to forming a Top 40 when combining them with the girls. So instead of seeing all of those performers moving on the judges are about to make yet another round of hard cuts.
A third of formerly "safe" male performers will face the axe next Thursday night. Those 28 performers will be cut down to 20 before moving on to Las Vegas.
Want to know who makes it and who gets cut? You can either wait for next week or you can look at our Season 12 Top 20 Boys list to get the American Idol spoilers.