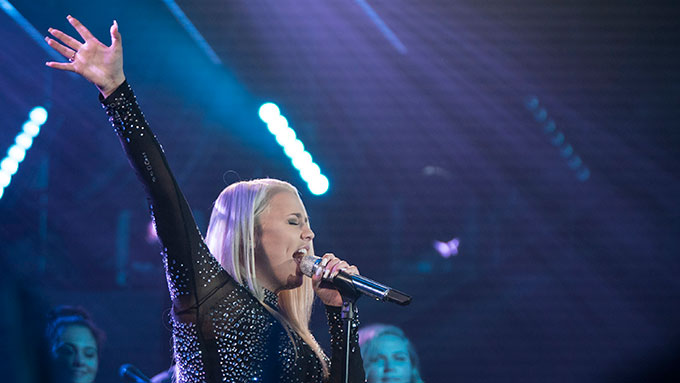 American Idol 2018 hopeful Gabby Barrett took to the semifinals stage Sunday night with her version of Maren Morris' "My Church."
The American Idol judges' reactions to her performance were a little more reserved than some of the others, but they're giving nothing but praise this season so far, so Gabby should be sitting pretty during the results Monday night.
"I have never in my life watched a person get to the end of a song and blow me away," Lionel Richie said. "First of all you have an amazing attitude. I would say give us a little bit more of your personality half way through. Don't [wait] until the end."
Katy Perry agreed with Lionel and added: "That was super cool and then at the end it went from zero to a hundred real quick. That was great."
Luke Bryan thinks Gabby has the it factor they're looking for. "I'm happy because we're looking for people that have the sine and the sparkle," he said. "You have the shine, you have the sparkle."
In case you didn't catch Gabby's Top 24 performance of Maren Morris' "My Church" on American Idol Sunday night, check it out below. If you did see it, what did you think? Do you think Gabby has what it takes to be the next American Idol?
Gabby Barrett performs 'My Church' on American Idol 2018
If you are a Gabby Barrett fan and don't want to wait until Monday night to find out if she officially makes it into the American Idol Season 16 Top 14, you might want to check out our American Idol 2018 Top 14 spoilers.
Be sure to join us Monday night for the celebrity duet performances and all the American Idol results for Group 1. Find out which seven contestants move on to the live rounds and which five semifinalists go home.