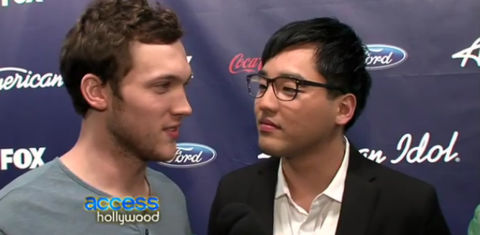 American Idol 2012 singers Heejun Han and Phillip Phillips are enjoying their journey through the world of American Idol and Access Hollywood did a great job of capturing the fun in an interview this past week. The reporter jumps right in to Heejun's attire and poking fun at his accessories before Han explains that since it was Wednesday, he had to wear Wednesday-like clothes. Makes sense.
The entire video clip below is pretty much just an excuse for Phillips and Han to goof off and make jokes, so if you're a fan of either then before to watch the entire interview. Highlight for the ladies may be that if you see Phillips out in the world he may let you check out his chest hair, just don't pull it. He's tough, but fair, ladies.
For someone who allegedly went in for an emergency medical situation the next morning, Phillip Phillips seems to be in pretty good condition here. Let's hope that TMZ story was bogus like most of what they put out there.
Do you agree with the reporter that if American Idol 2012 was a personality contest, Heejun Han would have it locked down for the win?