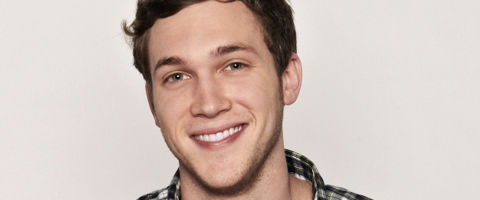 Update: Phillip just told Ryan Seacrest that he didn't go to the hospital today. He went to the doctor. Not sure why his father didn't mention that, but okay, Idol PR spin doctors. Most "stories" out of TMZ seem bogus anyway.
Heads up, Phillip Phillips fans. The guitar swinging American Idol 2012 Top 13 singer was rushed to the hospital earlier today, but has pulled through his medical emergency. Zap2It reports on Phillips' health scare:
"American Idol" frontrunner Phillip Phillips is back in the studio after being rushed to the hospital earlier today (March 8th) for an unknown ailment.

Sources close to production tell Zap2it that Phillips did go to the hospital earlier, but is now back in the studio and will participate in tonight's results show.

TMZ reports that the singer sought medical treatment after experiencing intense abdominal pain, and that friends think gallstones are to blame. There's no official word on what Phillips was suffering from.
Phillip's father released a comment that there was surgery to kidney stones. Yikes! This guy is a trooper if he was having surgery this morning and rocking the group lip synch disaster-a-thon this evening for the American Idol results show.
We'll keep you posted on any further developments.