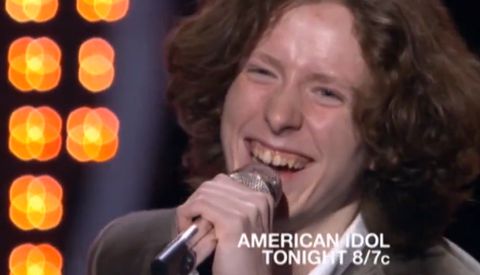 Tonight on American Idol 2013 the remaining male Hopefuls will take the stage one last time starting at 8PM ET/PT on FOX for a new one-hour episode.
Last night we watched as the hundred plus male Golden Ticket holders hit the stage both by themselves and in groups to perform for the judges, but tonight the pressure continues. We'll once again be watching the guys, but the groups are done and gone. Instead we'll get solo performances with backup from the American Idol band.
Check out the preview video below for tonight's Hollywood Week episode which includes a spotlight on Charlie Askew (seen in the picture above). Charlie is one of the younger singers but he is becoming a fan favorite and, according to this season's spoilers, is on track to go far on American Idol Season 12.
Join us tonight at showtime for a live blog and recap featuring the performers and Idol results. Be sure to Like us on Facebook, Follow us on Twitter, and Read us by Email for your latest American Idol 2013 updates!