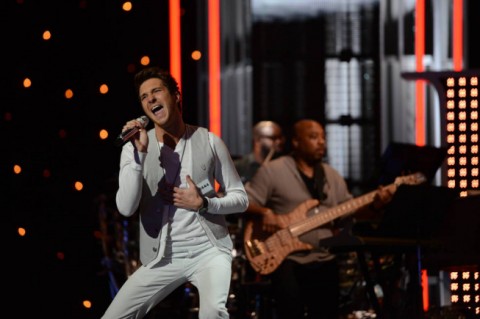 American Idol 2013 Hollywood Week continues tonight as the guys who made it through group rounds last night take the stage solo.
The guys who get through tonight are one step closer to the Top 40 Las Vegas rounds which are set to air in two weeks. As usual, I'll be recapping the auditions live and pulling out the standout performances — both good and bad. And we're also in for some shocking eliminations. So get ready! Let's do this.
The Standouts
Paul Jolley. Paul is battling some major nerves, but he managed to shake those off and deliver a pretty great performance. He's got a very solid sound and a nice range and great stage presence. Nicki asks him to give the judges one minute of professionalism. How about SHE give us ONE SECOND of professionalism. Am I alone in crossing my fingers she's ditched after this season?
Lazaro Arbos. An early fan favorite, Lazaro's version of Lady GaGa's "Edge of Glory" wasn't that great. He has definitely sounded better so far in this contest.
Curtis Finch Jr. Curtis is a strong singer. He's definitely the Joshua Ledet of this season. His version of "Jar of Hearts" was effortless and Mariah Carey is sold on him.
The first round of Results: Lazaro, Curtis and Paul are Top 40 bound.
 Devin Velez. His performance was great. He's got a sweet and tender sound and made "What A Wonderful World" feel fresh.
Gurpreet Singh Sarin. The "Turbanator" continues to impress the judges. He gave another sold performance.
Cortez Shaw. This guy is stepping out of the shadows and proving to be a favorite. He's a natural on the stage.
Matheus Fernandes. Despite all the buzz Matheus has been getting, his performance of Kelly Clarkson's "Stronger" wasn't his best performance. He was attempting to put a rock spin on it, but it didn't quite come together. But he's still super sweet.
More results: Devin, Gurpreet, Cortez and Adam are safe and moving on. Matheus heads home following some unnecessary remarks from Nicki.
Papa Peachez. Oh my. Train wreck. But was it intentional?
 More results: Moving on are Jimmy Smith, Johnny Keyser and Vincent Powell. 
Nick Boddington. Nick is the first guy we've seen play an instrument. His performance was one of my favorites so far. I liked his song choice and he's got a sweet voice and he's easy to listen to. And he's got a great range and seemingly a good personality.
Charlie Askew. His version of "Somebody That I Used To Know" was set up with a description. It was perfectly done. The song got off to a weak start, but then he hit his stride. I wouldn't call it his best performance, but I like this guy.
More results: Charlie, Nick, JDA and Mathenee Treco are put through.
Burnell Taylor. I really like this guy's voice. There's a raspy tenderness that always stands out to me. I'm digging it.
More results: Burnell and Marvin Calderon move on to the next round.
Micha Johnson. Micah's performance was pretty solid. I found it pretty boring, but luckily what I think doesn't really matter.
More results: Micah is cut. He's out of the contest. As are Gabe Brown and Nate Tao. 
The guys who have made it through are called back to the stage. Randy tells them that next Thursday eight more guys will be cut next week. So the 28 who were put through today will become the Top 20 guys.