Video: Jake Bugg Thinks 'American Idol' Wrecks Kids' Dreams
UK artist Jake Bugg slammed American Idol after performing on the show last week, calling it "cruel."  We aren't surprised the British artist decided to bash the show considering his past history of name-calling and insults. We are, however, wondering why the hell he went on American Idol 2014 in the first place if he hates the reality competition so much.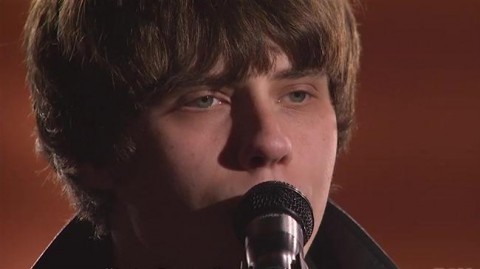 Speaking to BBC Newsbeat, Jake Bugg said American Idol is a "cruel" torture for the singers involved. "It's like, 'Thanks for coming on but you'll never get a contract.' It's the dream smasher." Jake added, "We went on just before they said to this contestant, 'Yeah you're not through,' and she was really heartbroken."
As for why he did the show despite his apparent distaste for it, Jake said "we ended up doing the show because one of the judges, Keith Urban, wanted us." That wasn't the only reason, however. "For my sins, as I talked about those shows so much, I thought it might be an idea to actually go and experience it," he explained.
Jake Bugg, who shot to fame in 2012 after his debut album reached number one on the UK Albums Chart, has no problem expressing his opinions loudly for the world to hear.
Before his American Idol diss, Jake was known for insulting One Direction by calling them "terrible" and claimed the Brit Awards made up "an award just do One Direction would win it and turn up." He also said the Brit Awards was "really boring" after losing to David Bowie in the Best British Male category.
"I don't mind losing out to David Bowie but how can you have a category with him in it and four people that have made one or two albums? I say don't put him in that category. Give him a lifetime achievement or whatever."
Jake also said he is "not a teenager any more," in his interview with BBC Newsbeat. We leave that up to you to decide the truth of.