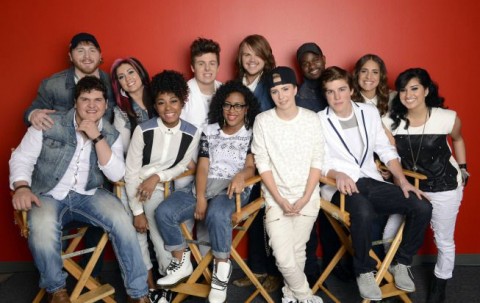 The American Idol 2014 Top 12 take to the stage this week to sing songs about "Home." And I wish they were actually songs with "home" in the title, because then I might actually be able to make song suggestions.
But apparently the theme is songs that remind them of home. So again, I'd have to take some shots in the dark. So instead of just picking what each contestant should sing, I'm going to focus more on the the kind of song and performance they should take on.
Alex Preston. I don't think it's time for him to put the guitar down yet, but he should definitely speed things up. He also needs to work on how he contacts with the audience. His stage presence is kind of off-putting right now.
Ben Briley. The opposite of Alex, I think Ben needs to slow things down. His very, very up-tempo performance last week almost got him in trouble. I think it's important for him to be a fun entertainer, but it's also important for him to show us he can sing.
Caleb Johnson. Much like Ben, Caleb should pull back this week. Not necessarily slow things down, but just soften things up a bit. He comes on very strong in his performances and he's starting to look like a one-note. It would be nice for him to pull out a nice ballad. Even a 1980s power ballad would be right up his alley. Or some Muse.
C.J. Harris. C.J. really just needs to define himself to us. I seriously have no idea what kind of artist he is. I think he's into Darius Rucker country/pop but he comes on pretty old-school country at times, too. I guess it's OK to be both, but I need something more definitive from him.
Dexter Roberts. I think Dexter is doing just fine right where he is. He needs to just keep being true to himself. I would like to see him take a non-country song and put his country spin on it, however.
Jena Irene. Jena is somewhere near the bottom of the pack, so her biggest goal this week should be doing a popular song and doing it well. She really needs to pick a song everyone knows and she needs to have a moment with it. I believe she could build some momentum and no longer be at risk of going home. She just needs to make the right moves.
Emily Piriz. I don't mean to sound like a jerk, but I don't really have anything to say about Emily. I find her boring and unmemorable. I can't even remember what she sang last week. So there's my suggestion: STAND OUT.
Jessica Meuse. I think Jessica is in a pretty solid place right now, so she doesn't need to do a lot. She should pick a popular song this week so that she might pick up more fans. Of course I could say that about all of them.
Majesty Rose York. I like Majesty and I think she's doing a great job, but she is blinding in a bit. Her best bet this week would be to do something to stand out.
Malaya Watson. I like Malaya, but I think her days are numbered. My advice for her this week would be to calm down and sing. Focus on your vocals and stop moving about the stage. Show America that you can sing like you sang during Hollywood Week.
MK Nobilette. I'm not sure what happened to MK last week. I thought she'd be pretty solid for awhile but then she almost went home. I think this week she just needs to focus on her vocals and show America what she can do.
Sam Woolf. I think Sam is sitting pretty for a bit. He could easily fall into the boring trap, though. Song choice will be very important for Sam. I think he should pick an older song and put a younger spin on it, so he appeals to everyone. Right now I think he's only appealing to the younger audience. So that trick could help him out.
What would you like to hear the American Idol 2014 Top 12 do this week?