Video: Jason Aldean Now Dating the 'American Idol' Alum He Cheated With
Country star Jason Aldean is now dating the former American Idol season 11 contestant he cheated on his wife with! Despite claiming their makeout session while he was married was just a drunken one-time mistake, Jason Aldean and Brittany Kerr are reportedly now officially a couple.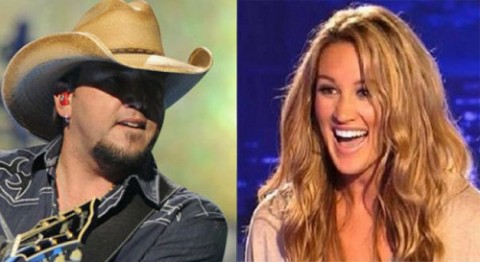 Jason Aldean was photographed making out with American Idol season 11 alum Brittany Kerr back in 2012 at a bar. The two got quite hot and heavy on the cameras and the incident eventually led to Jason and high school sweetheart Jessica Ussery filing for divorce last May.
According to reps for the country singer, Jason and Brittany have been dating since the divorce filing. Of course, we only have their word for it that they weren't continuing to hook up the whole time the country singer was allegedly trying to work things out with his marriage.
Right after the two were first photographed together, "Night Train" singer Jason said hooking up with Brittany was all a drunken mistake at the time, claiming that he "had too much to drink" and "let the party get out of hand." He also claimed he did not sleep with Brittany back then, and he "left alone" after the makeout session at the bar.
Charlotte Bobcats cheerleader Brittany later said she had no idea that the man she was smacking her lips on was married when it happened. After receiving a flood of angry messages from Jason's fans, including death threats, Brittany apologized publicly and called the whole thing a "lapse in judgment" on her part.
Source: Taste of Country