Country star Jason Aldean is set to wed the former American Idol contestant he cheated on his wife with. Jason Aldean and former American Idol season 11 singer Brittany Kerr are now officially engaged. Aldean reportedly popped the question at the San Diego Zoo on Tuesday, according to Billboard.com.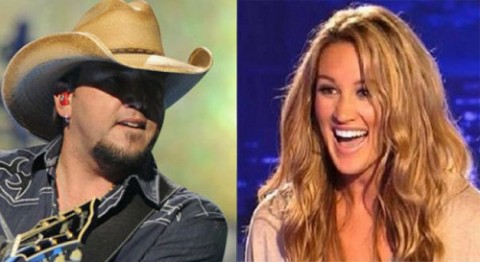 Jason Aldean and Brittany Kerr first got together back in 2012, when the singer was photographed making out with the former American Idol contestant at a bar. He was still married to wife Jessica at the time. Aldean later claimed he was drunk and had made a terrible mistake. Kerr said in the press that she had not known Aldean was married when the bar incident happened and called the whole thing a "lapse in judgement."
Although Aldean reportedly attempted to work things out with his marriage after the cheating incident, he and wife Jessica eventually filed for divorce. After twelve years of marriage, they officially split up in 2013.
Not long after, Aldean was spotted getting cozy with Kerr once again, prompting another wave of negative backlash against the singer for dating the woman he cheated on his wife with. Aldean publicly bashed critics, saying that he "wouldn't change a thing" about what happened between him and Kerr.