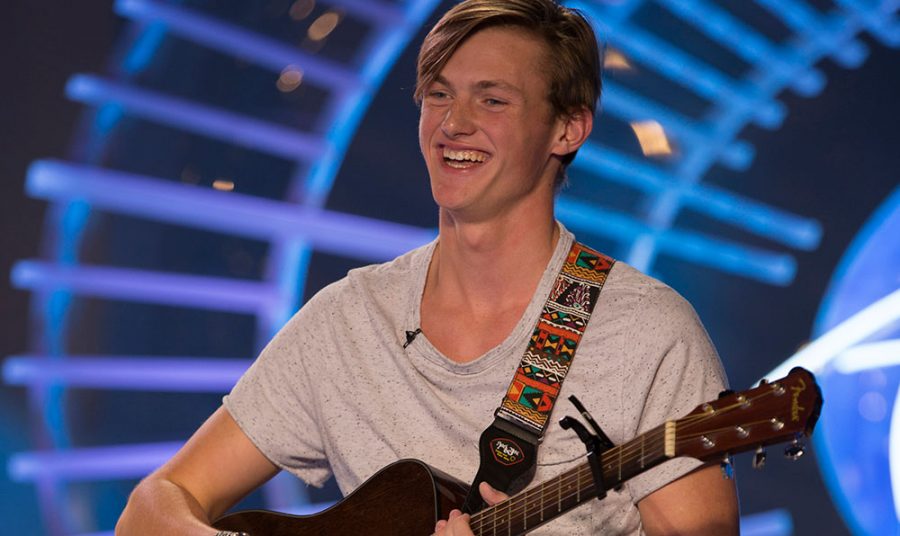 Jonny Brenns didn't tell his family that he was audition for American Idol, but something tells me he's had to let them know that he will be a part of the American Idol 2018 Top 14. According to American Idol spoilers released earlier this year, Jonny passes onto the Top 24 and them sails into the Top 14. So we will be seeing a lot more of the tall singer-songwriter.
The 18-year-old from St. Augustine Beach, FL, wowed judges with his original song "Blue Jeans," but they weren't thrilled with his vocals. Katy Perry says there's this "sweet, little sexy thing going on." Judge Luke Bryan told him he's got a smooth voice, but wanted to hear him get more into a song so he got him to sing some Michael Buble. He got a yeses from Katy and Luke, but a no from Lionel Richie. So it'll be interesting how he took only two yeses from his audition and made it all the way to the American Idol Season 16 Top 14.
This is Jonny's first run on American Idol, but according to his Facebook, he audition for The Voice last year and left feeling crushed. "Recently I found it actually super difficult even to record music after kinda getting crushed with the whole Voice thing," he wrote. "It took a while for me to love singing again purely because I enjoyed making music."
It would appear that his bad experience on The Voice didn't leave him too crushed, though, as he went on to release a 5-track EP and two additional singles, including "Blue Jeans" on iTunes. You can check those out by searching Jonny Brenns on iTunes.
You can find more of Jonny Brenns on Instagram, Twitter, on Facebook, and even on YouTube with some additional performances
Jonny Brenns performs "Blue Jeans" on American Idol 2018
Jonny Brenns sings Make Me (Cry) for The Voice audition
Jonny Brenns performs Good Good Father
Keep watching American Idol 2018 for future performances of Jonny Brenns and to see how does in the Top 14!