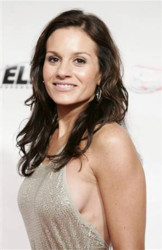 Letting go of the American Idol experience can be tough for any contestant who tried but failed to make it. It seems to be even harder for Idol judges cut loose from the show (or did she quit?).
Kara DioGuardi is now hard at work writing her memoirs for the two years she sat alongside Simon and Randy at the American Idol Judges table. No word yet on just how revealing her book, entitled "A Helluva High Note: Surviving Life, Love, and American Idol," will be, but we can expect it to hit the shelves in April 2011, just a month before the upcoming season's finale.
If you're worried about Kara withdrawal this season then you're in luck. She'll be moving on to Bravo's singing competition show, "Going Platinum." I think I'll stick with American Idol.