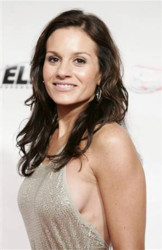 Did Kara quit or was she fired from American Idol 2011? Just a month ago we were told that Kara DioGuardi had been let go by producers at nearly the same time that Ellen DeGeneres had backed out of her two-year contract. Now a source has told E! that it was Kara's idea not to return:
"She went to Fox two months ago and told them she didn't want to do another season," a source tells me. "She's ready to move on. She did two years and thinks that's enough."

So what happened when DioGuardi told Fox that she wanted out? "They said they'd get back to her," the source said.
Well that's a lot different from American Idol firing Kara from the judges' panel. It also implies that Kara might not actually be gone from the show. Returning producer Nigel Lythgoe has only announced that a final decision on the American Idol 2011 judges will be revealed in the next few weeks.
While we wait for the official word, let's hear more judge suggestions!