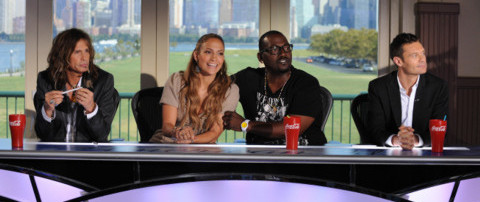 Are you ready for American Idol 2011? Well it's just six weeks away now and as you'd expect we're starting to get even more spoilers than just who is going to Hollywood this season. So far the big spoilerish rumor news is that there will be online voting this time around for the Top 50 or some contestants.
That online voting, which will allegedly be done through AT&T's website, will narrow things down to 2011's Top 12:
Apparently, 242 people have received golden tickets to Hollywood. The Hollywood episodes are supposed to feature Q and A sessions and workshops so the viewers will get to know the contestants. 40-50 contestants will be featured prominently in the episodes, and viewers will be able to vote via online ballot for their favorites.

The 12 highest vote getters will advance, with 3 more contestants advancing to the top 15 via a wildcard with Jimmy Iovine and the judges.
All this focus on the Top ~50 singers feeds back to Nigel Lythgoe's statement that he wants us to care more about those early stage singers and not rush through to the Top 24 rounds. Makes sense and will definitely give the new American Idol season feel much different by generating that much viewer interaction.
There's also an alleged Twitter account out there (well, actually right here) that notes the online voting will start on February 10th via ATT.com/Idol. That site currently generates an error screen, but does so right after it redirects to a more detailed Idol URL on their site, so it seems kinda legit.
Does this early news about the upcoming changes make you feel better or more cautious for what's to come on American Idol this year? Your thoughts?
Source: VFTW
Side Note: Simon Cowell's new show, X Factor, has allegedly offered a judge's seat to Cheryl Cole. We're still almost a year from that Fall 2011 premiere though.