Looks like former American Idol runner-up and Smash star Katharine McPhee doesn't care who knows she is hooking up with a married man. Katharine, 29, who recently separated from producer Nick Cokas, 47, was photographed this weekend making out with former Smash director Michael Morris — who also happens to be married. Neither of them seemed to give a f**k that they might be snapped by paparazzi flaunting their adultery in public.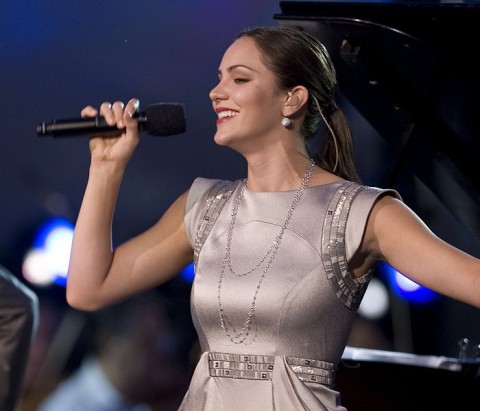 The problem is that unlike Katharine, Michael Morrisis not separated from his wife. Or if he is, they have not come out about their breakup. In fact, actress Mary McCormack was happily tweeting her support of her husband's directing on a recent episode of Betrayal just a few days ago. Now that's irony. To make things even more painful, Michael and Mary have three young daughters together under the age of 10.

From the way Katharine McPhee and Michael Morris were all over each other in the photos obtained by TMZ.com, it doesn't look like they just started hooking up either. This looks like a relationship that has been going on for a while, in our opinion. They are comfortable, obviously very into each other, and not afraid to show it.
Katharine may technically be committing adultery but at least her and her husband Nick Cokas are separated. TMZ reports the two have been living apart for six months. Maybe Michael Morris and Mary McCormack are separated as well but if so, they haven't peeped a word about it. And from Mary's tweet above, it looks like she didn't know anything about a breakup as of two weeks ago.
If you're going to be macking on a woman who isn't your wife right out there in public on the streets of Hollywood, it might be nice to at least announce you've broken up with her first. Just so you look like slightly less of a d*ck at least.