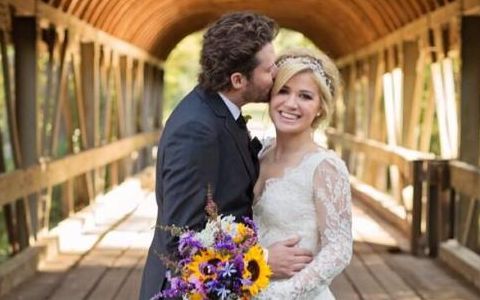 Congratulations to American Idol's Kelly Clarkson! Clarkson got married to fiance Brandon Blackstock over the weekend on October 20th at Blackberry Farms in Tennessee.
Kelly Clarkson released pictures of the event on her Facebook page and announced herself as "officially Mrs. Blackstock." She thanked Temperley [Bridal] for her wedding dress. According to Hollywood Life the dress is by designer Alice Temperley:
The lace gown featured long sleeves with small buttons and a v-neckline that allowed the singer to flaunt her assets in a tasteful way.

An empire waist gave way to an A-line silhouette, while the frock featured a small train. From the long sleeves to the way the lace skimmed over her silhouette, the gown was a great choice for a festive fall wedding.
Clarkson had recently revealed in an interview that she was ready for "a big, chunky baby." According to a few tabloids that may already be in the works, but take that with a pile of salt considering the sources.
click to see full-size view
What do you think of Kelly Clarkson's wedding dress and location? Are you excited for the original American Idol winner? We are!
Update: Congrats again to Kelly for landing the cover of this week's People magazine with her wedding photo!
Image credit: ArchetypeStudioInc.com via Kelly Clarkson