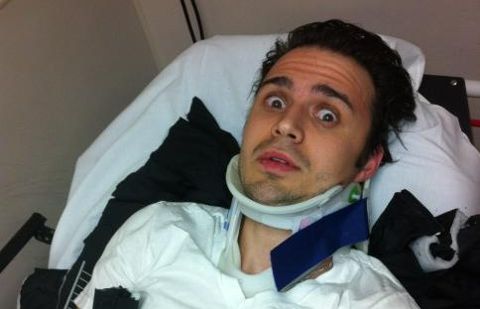 American Idol winner Kris Allen and his wife were involved in a head-on car crash on New Year's Day with a career-impacting result. Kris' mother Tweeted a picture and message revealing Kris had a broken right wrist and was in serious pain.
From Kris: he's in a lot of pain, arm broke, may not play guitar for a while. Prayers welcome please! #headoncollision twitter.com/allen_kimberly…

— Kimberly Allen (@allen_kimberly) January 2, 2013
Thankfully everyone else in the car was safe including his wife and their unborn baby which made for its own announcement. Yep, Kris and his wife are expecting a baby.
Yes I got in a really bad wreck tonight and yes I'm having a lil baby. #gonnabeadaddy

— Kris Allen (@KrisAllen) January 2, 2013
Kris later Tweeted that his tour will press on despite the injury which is impressive and surprising. Best wishes to Kris and his wife to have a full and quick recovery.