The whole town of McComb, Mississippi turned out to welcome home American Idol 2016 finalist La'Porsha Renae this past weekend. Thousands of fans crowded the streets, some of them traveling hundreds of miles to see the strong favorite to become the next American Idol winner. La'Porsha beamed with a huge smile on her face while holding her baby daughter up during a parade through town, before taking the stage to give a rocking concert for her supporters.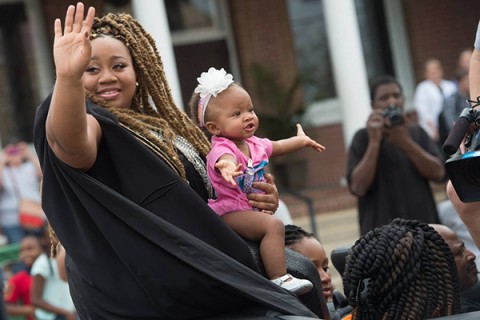 In her first performance for the night on Thursday, La'Porsha Renae tackled "Glory" by John Legend and it was simply spectacular. Of course, there is pretty much nothing that La'Porsha doesn't sound great singing. Keith Urban praised La'Porsha for having such a strong and pure gift, and said he felt like he'd just be baptized! Jennifer Lopez loved the inspiration song choice and thought it was a fantastic. Harry Connick Jr. said he admires La'Porsha's grace and said this song was just "critique proof."
La'Porsha Renae – "Glory" by John Legend
For her second song of the night, La'Porsha wowed the judges and the viewers with her rendition of "Stay With Me Baby" by Lorraine Ellison, chosen by mentor Scott Borchetta. La'Porsha did not want to do the song, and did not like the song, because it's all about begging a bad man to stay with her — and she's never do that! Still, she rocked it out anyway. The American Idol judges all seem to agree that they could tell she didn't connect with the lyrics, but she did an amazing job with the song regardless.
La'Porsha Renae – "Stay With Me Baby" by Lorraine Ellison
Wow, La'Porsha got to sing an actual current hit song by a hugely popular singer for her final performance on Thursday night. That just doesn't happen very often, especially when it was picked for her and not one she chose. If this performance doesn't get her into the finale — and possible win the whole show, we'd be very surprised. The American Idol judges really just didn't have anything to say other than the same praise they just keep giving her for every performance.
La'Porsha Renae – "Hello" by Adele
What did you think about La'Porsha Renae this week on American Idol 2016? Don't forget to cast your vote for who will make it to the finale!