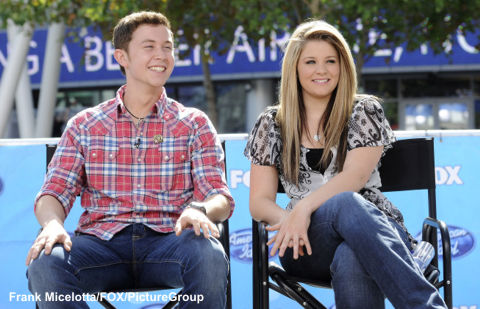 Tonight's final American Idol 2011 performance show will feature three songs for each of the remaining singers and we've got some early details on what a few of those will be. Shockingly, these Idol spoilers didn't come from Haley Reinhart's parents this time. Instead, Taste of Country broke the story revealing the "if they won, what would they release" song selections.
Taste of Country was tipped by a source at Universal Music Group, who tells us that McCreery's song is called 'Love You This Big' and Alaina's is titled 'Like My Mother Does.'

Both singers will premiere their new singles during this week's 'Idol' performance show on Tuesday, May 24.
I'm not sure what makes these songs the artist would first release if they won because both of them will be releasing the songs before either one wins. So…
USA Today is also reporting the remaining Country duo will get some big star power for helping to pick out one of their other two songs. Carrie Underwood will choose for Lauren while George Straight will have the honors for Scotty's selection. I have to assume these song selections will take the place of Simon Fuller's picks as previously reported by Idol or else we'll have four total songs for each.
Still no word on the third performance which will be the singer's favorite from earlier in the season, but would anyone be surprised by Scotty going back to his ol' faithful Josh Turner cover and Lauren doing her Miley fav? But that's exactly why I don't think either of them will do those tonight on American Idol.