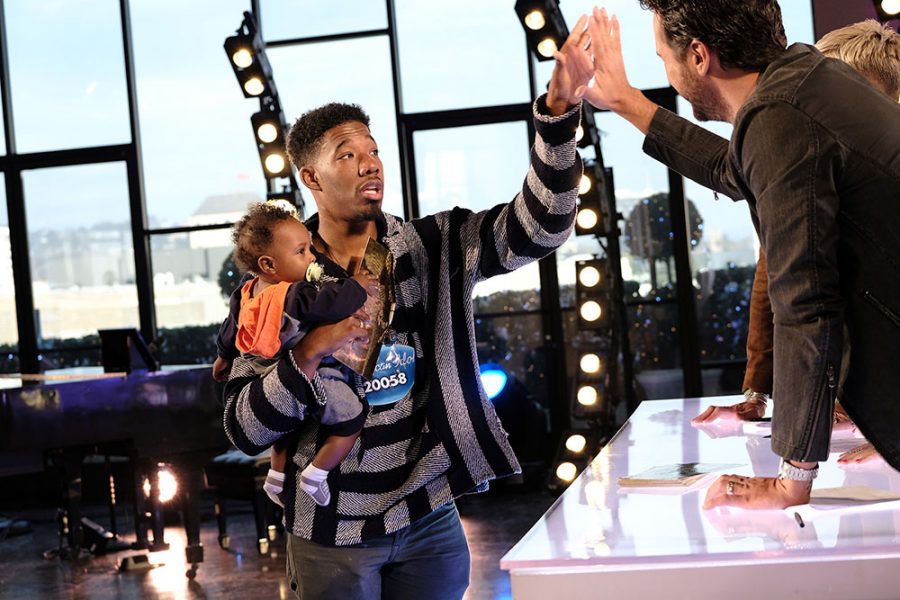 American Idol 2018 hopeful Marcio Donaldson will take his place in the Top 14, according to American Idol Spoilers released earlier this year. That means the young father will advance onto the Top 24 of Hollywood Week and then onto the live performances along with the rest of the American Idol Season 16 Top 14.
The 28-year-old from Compton, CA, wowed judges and fans on the March 19 auditions episode when he showed up with a baby and told his story. Marcio says he and his sister were placed into the system when they were children and the cycle has repeated. His sister couldn't care for her baby any longer, he says, so child protective services brought the then 1-month-old boy to him and told him to decide if the baby goes into the system or stays with him. He decided to take his nephew in as his own. And six months later, he's with his son at his audition for American Idol.
And if his story didn't floor you, his audition of "Jealous" by Labrinth should have. It was a very emotional performance and it earned him his ticket to Hollywood from the panel of judges. Luke Bryan told Marcio that his voice is a real voice, and that's what they're looking for. "Is it technically perfect," Luke asks, "no, man but it's real."
This isn't Marcio's first go at American Idol. He audition numerous times and made it to the Hollywood rounds during Season 15 two years ago. He was cut during the group rounds. Marcio has also been trying to make it on his own, as he released an EP in 2013 and has couple of music videos from 2013 and 2014 on YouTube.
You can find more on Marcio Donaldson on Instagram, Twitter, on Facebook, and on YouTube.
Marcio Donaldson performs Jealous on American Idol 2018
Marcio Donald's official music video Superman
Marcio Donaldson music video for Try