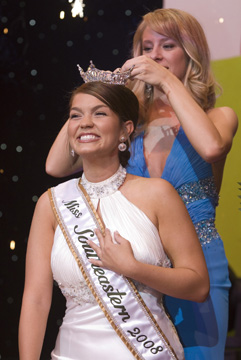 We've been digging through the American Idol 2013 Top 40 Spoilers and today I've landed on Brandy Hotard.
Brandy is rumored to be among the Top 40 girls that make up the Season 12 hopefuls list. Brandy has no previous American Idol experience, but she isn't new to competition. She's a pageant girl. It looks like the Louisiana girl has competed in the Miss America pageant system, coming up just shy of the Miss Louisiana title. Her talent: singing.
There aren't a ton of videos of her singing, but I was able to find her singing The Star-Spangled Banner at a sporting event. She seems to have a nice tone and a slight twang there. Could she be the season's country girl? Pageant girls don't tend to make it very far on American Ido. But there's a first time for everything, right?
Check out the video below and let us know what you think. Could Brandy be the next American Idol?
Remember these are just rumors. And even if the Top 40 rumors are true, that does not mean that they'll make to the live shows or any other format American Idol might be observing this year.