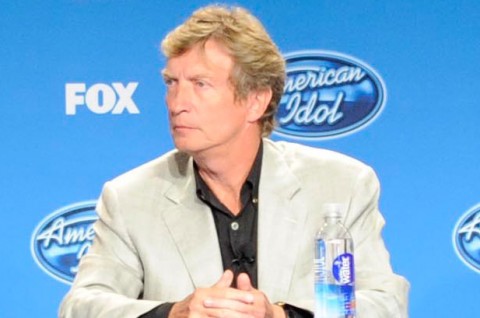 To say ousted American Idol producer Nigel Lythgoe has mixed feelings over his recent firing would be an understatement. He knows the firing wasn't personal but also harbors hard feelings. As he and anyone else fired from a job should.
"Of course I've got hard feelings. I'm pissed off," Nigel said with a laugh on the red carpet at the Critics' Choice Television Awards on Monday night in Los Angeles. "But, in truth, you say at the end of the day that this has been a fantastic journey and it really has [been] for me, personally."
Nigel also added that he thinks he knows what went wrong with the show in recent seasons.
"I believe the issue is that we lost our way, that we went for a young audience when really, we're a family show," he said. "When we came over here, I said, 'We are going for targeting this middle age group that will bring the kids in and the grandparents. And families I think, nowadays, feel very guilty they aren't together enough so if you have a program that attracts an entire family, you get what you want, which is that younger age group anyway."
Nigel also took the time to remind us that he has had nothing to do with recent judging choices. That was all up to Fox.
"My feeling with judges is I only ever chose three judges and [they were] Randy [Jackson], Paula [Abdul] and Simon [Cowell]. But my feeling with that is you do have to screen test them. Just because you're a great singer does not make you a great judge," he said.
No word on what Nigel thinks of the new producer, Per Blankens, who will be replacing him.