Former American Idol winner Phillip Phillips will be releasing his new album Behind the Light on May 19! We love Phillip and had a great time watching him recently when he performed his new single "Raging Fire" on American Idol 2014 recently. So we're happy to hear that not only does he have a new album coming out, but he's also headed out on tour this summer.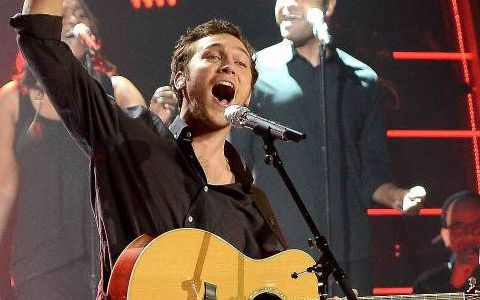 American Idol season 11 winner Phillip Phillips will be releasing his sophomore album, Behind the Light, on May 19th from 19 Recordings/Interscope Records. The album was produced by Gregg Wattenberg and features his new single "Raging Fire", which Phillip performed on the American Idol 2014 Top 12 results show.
We hope for Phillip that his second album will be as successful as the first, The World from the Side of the Moon, which went platinum and debuted at #1 on the Billboard Rock Album chart. The first single released from that album, "Home", went quadruple-platinum. Another song from his first album, "Gone, Gone, Gone" has also gone platinum.
Phillip Phillips previously toured with Matchbox 20 and as the opening act for John Mayer. He just wrapped a headlining tour in Canada and has announced a new tour launching this summer with O.A.R. Phillip and the rock band O.A.R. will co-headline the tour, which will kick offf on June 12th in St. Louis, Missouri. For more information, fans can visit PhillipPhillips.com. Tickets for the tour go on sale April 8th for registered fans and April 11th for the public.
We wish all the best for Phillip with his new album and tour. Hopefully he'll be swinging our way so we can enjoy seeing him again in person!