We have new Adam Lambert Glee goodies to share and they are delicious! We love former American Idol runner-up Adam Lambert as Elliot 'Starchild' Gilbert so much on Glee. We are terribly sad that this week's "New New York" episode may well be his last ever on the show. Although, we do note that producers did not actually write his character out of the series… so there's always a chance he could be back!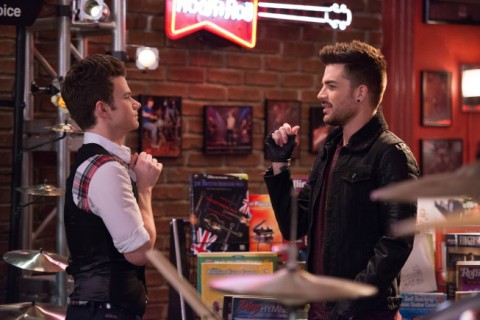 Adam Lambert returned once more to Glee this week for what may be his final episode. He's headed off on tour this summer as the guest front-man for Queen and has numerous other projects in the works.
We haven't heard anything about him popping up on Glee again for the show's final season, so tonight could well be our last visit with 'Starchild'. We are happy, however, that the door was pretty much left wide open for us to see him again, since he's still in Kurt's band.
But just in case, let's celebrate all things Adam Lambert on Glee with all the fun from his possibly last appearance on the show in the "New New York" episode! First up, let's gaze at our man Adam Lambert in the promo video above and the fab photos from this week's show. Dreamy!
(Click the pics for bigger versions or to scroll through.)
Now let's listen in to Adam Lambert and Chris Colfer on their probably last song together on the show. (Sniff!) How appropriate for Adam's maybe final tune to be "Rockstar" by A Great Big World!
We really hope Glee producers will find some kind of an excuse to drag Adam Lambert back to the show next season for some reason. We still find it kind of hilarious that Adam was actually rejected for a role on Glee before he ever went on American Idol!
To wrap up, we'll let Adam Lambert speak for himself about his experience of being on Glee.
I also wanted to say how much I loved being on @GLEEonFOX this season. I learned so much & had so much fun. Thanks to the cast and fans.

— Adam Lambert (@adamlambert) April 1, 2014