Poor pregnant Kelly Clarkson is having a very rough time with morning sickness in her first trimester. The original American Idol winner, who announced last week that she is expecting with husband Brandon Blackstock, is literally sick day and night!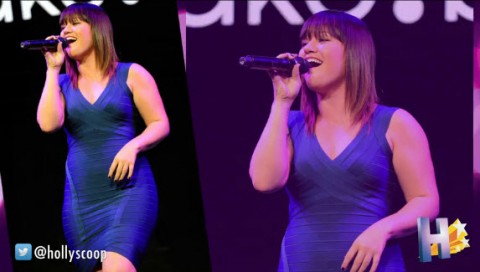 "I don't know why they call it morning sickness," Kelly Clarkson said on the
Today
show on Tuesday morning. "It's like all day and all night." Despite feeling terrible most of the time right now, however, Kelly said she is "super-excited about expecting a baby. She's just really, really "looking forward to the second trimester" when morning sickness typically goes away for the most part.
Pregnant Kelly Clarkson rocked by terrible morning sickness day and night.
Her extreme morning (afternoon and evening!) sickness was the reason Kelly decided to come out about being pregnant earlier than she and hubby Brandon had planned. "We were trying to wait until the end of my first trimester," Kelly said, "but everybody kept talking about it and I had to cancel something because I've been so ill."
In the midst of promoting her new Christmas album, Wrapped in Red, Kelly didn't want people to think she was cancelling because she was "lazy or something," so she decided to spill the beans via Twitter. Kelly is really hoping for a girl, although she'll be terribly happy either way. But she suspects all this trouble with morning sickness must be a hint she has a daughter on the way — because of course it would be a girl causing all this trouble!