Riley Bria has officially joined the American Idol Season 14's Top 24 singers making this the second time young Riley has stood opposite Keith Urban.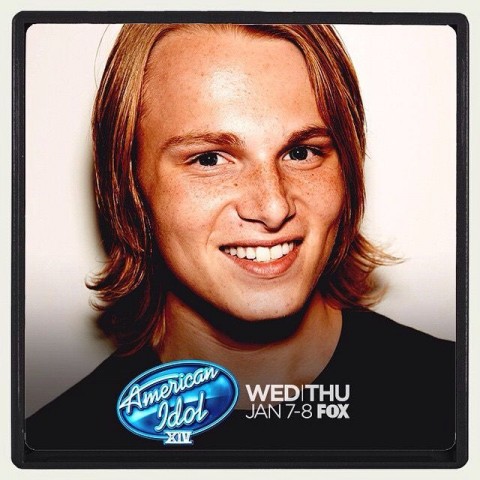 Riley Bria: Profile, Fan Page, YouTube – Photo: FOX
Riley actually played guitar on stage alongside American Idol judge Urban back in 2012 thanks to a summer camp operated by the Grammy foundation. Sounds like a nice camp!
Now Bria has the chance to show off his voice for Keith and following his Nashville audition it looks like Keith and the other judges were impressed enough to send the singer on for a chance to hear more from him.
click images to see full-size view
Riley Bria auditions for American Idol 2015:

Now part of the Top 24 semifinalists batch of singers, Riley will need to keep up his strong stage presence and continue to make bold moves like picking a Keith Urban song to perform in front of the man himself! We'll look forward to seeing his Hollywood and Showcase week performances in the coming rounds ahead on American Idol this season.
Watch Riley perform "My Favorite Girl" with his band, Headstrong:
Riley Bria performs during American Idol 2015's Showcase Week
Riley Bria's thoughts on his House of Blues performance
"It was cool like getting to rehearse with the band and we got to rehearse with them a couple of times and I think they really wanted the show to be really, really tight and you know, really have a great episode to show and yeah, it was really cool. I got some advice about, you know, song choice and things like that, I mean song choice really does, it's pretty much everything. If you have a bad song and you're a great singer it's, I don't know, you could make it through, you could not, but if you're a great singer with a great song then you know, your chances are pretty good. So I got a lot of advice about song choice and things like that."