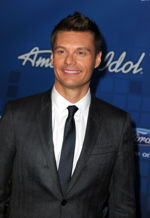 Ryan Seacrest, the American Idol host who does it all, will soon be launching his own television network as early as this summer after partnering up with billionaire Mark Cuban and other mega-$$ groups:
The multi-hyphenate, along with partners AEG and talent agency CAA, have struck a deal with billionaire entrepreneur Mark Cuban to rebrand Cuban's HDNet as AXS TV (pronounced Access) beginning this summer.

The channel's programming will rely heavily on live lifestyle and live entertainment fare, leveraging the music assets of AEG, a top venue owner and and tour promoter, and the A-list connections and production capabilities of Seacrest.

As part of the rebrand, the network will cater to pop culture and entertainment enthusiasts rather than the younger, heavily male demographic that HDNet historically has targeted.
I figured we'd be seeing Ryan host at least one show on the re-branded network, but according to THR, he won't be following the path of Oprah and won't actually be seen on the network. I wonder how long that plan will last. Seacrest has drawing power so you'd think they'd put it to use. Time will tell. Will you tune in?
Source: THR