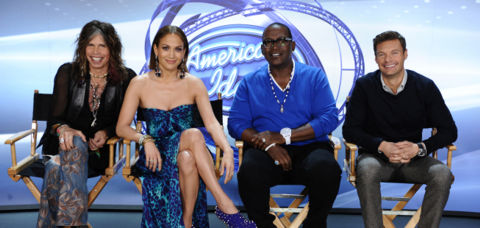 Dim the lights. We've got more American Idol spoilers for you thanks to the hard working "TIPsters" at The Idol Pad.
So far we've seen confirmation of the singers who made it through to Hollywood from Savannah and Pittsburgh. Now we've got the rumors and potential spoilers for those Idol Hopefuls who moved on to Hollywood. Read on for those Idol spoilers or steer clear to keep it a surprise.
Singers who reached the second round of Hollywood allegedly picked from a song list including "American Boy" by Estelle, "Hold On, I'm Comin'" by Sam & Dave, "Somebody To Love" (lots of potential artists), "The Story" by Brandi Carlile, and a Fleetwood Mac song. That isn't necessarily an all-inclusive list by any means, but just a few of their options. It's also reported that the group consisting of Aaron Marcellus, Creighton Fraker, Jen Hirsh, Nick Boddington, and Reed Grimm received a standing ovation for their American Idol performance.
Moving on to the third round of Hollywood, TIP is reporting the singers had a lot of great song choices with the following list, again not necessarily all-inclusive:
"Angel" (lots of potential artists)
"Breakeven (Falling To Pieces)" by The Script
"Georgia On My Mind" by Ray Charles
"Jar Of Hearts" by Christina Perri
"Landslide" by Fleetwood Mac
"Perfect" by Pink
"Price Tag" by Jessie J.
"Someone Like You" by Adele
"The Edge Of Glory" by Lady Gaga
"What A Wonderful World" by Louis Armstrong
"Without You" by David Guetta/Usher
"You And I" by Lady Gaga
During this third round in Hollywood there were supposedly just six standing ovations for the single performances by Adam Brock, Creighton Fraker, Elise Testone, Jen Hirsh, Joshua Ledet, and Shannon Magrane.
According to the American Idol 2012 schedule we'll be seeing these Hollywood rounds play out in mid-February so a few more weeks before we get confirmation on these, but I'd wager we're looking at pretty accurate American Idol spoilers here. Did your favorites make it through?
Source: The Idol Pad