Shannon Berthiaume auditioned for American Idol 2015 during the Minneapolis round and received a Golden Ticket sending her on to Hollywood. Shannon's journey continued on to the Showcase Round and will now go further as part of the Season 14's Top 24 contestants.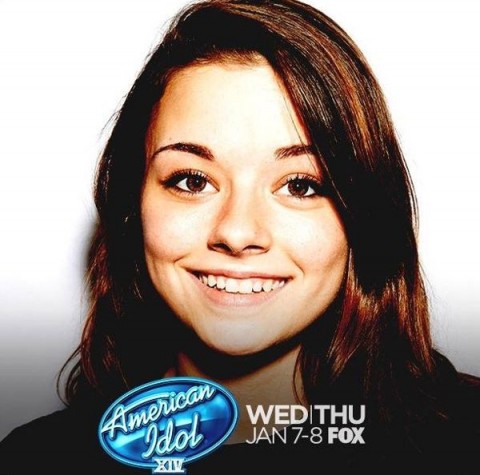 Shannon Berthiaume: Facebook – Photo: FOX
Shannon is just 17 years old making her one of the younger contestants this season on Idol, but her sound is impressive and soulful beyond her years. Meanwhile her Facebook page shows a lot of musical influences and a preference for Eminem with a healthy side of cute animal pics, because who doesn't like a fuzzy critter??
Watch a sneak peek preview of Shannon's audition performance here with "House of the Rising Sun":
Earning her way through the auditions started with just one performance and a lot of nerves, but the judges were quick to settle those fears. Watch Shannon Bethiaume perform "House of the Rising Sun" from her American Idol audition:
click images to see full-size views
We can't wait to see Shannon's performances in Hollywood Week and the all-new Showcase Week. The House of Blues setting should be perfect for what we've seen so far of Shannon on American Idol.
Shannon selected Stevie Wonder's "Sir Duke" for her solo performance and after a strong start she stumbles on the lyrics before recovering and finishing nicely.
Shannon Berthiaume sings "Sir Duke" in Hollywood Week:

Shannon Berthiaume performs "Piece of My Heart" during American Idol 2015's Showcase Week
Shannon on her House of Blues Performance
"The House of Blues for me was really crazy because, I mean, Jimi Hendrix has gone up there, Stevie Ray Vaughan has been there, Bob Marley, and just knowing that they have been on that stage makes you want to bring your A-game and give it your all and the crowd there had awesome energy so you could just feed off their energy and just work with it. And it gave you more confidence, also, because during Hollywood Week, you were singing for the judges, and they are so intimidating. And then with this, you had an audience that was just kind of vibing with what you were doing, so it was easy to vibe back and forth with them."