Sonika Vaid must have been heartbroken when none of the coaches turned their chair during her blind audition for The Voice season 4. Maybe it was destiny, however, since she's obviously been doing far better on American Idol 2016. The coaches on that other reality TV singing competition may not have appreciated her talent, but it seems the American Idol judges feel very differently about this young lady!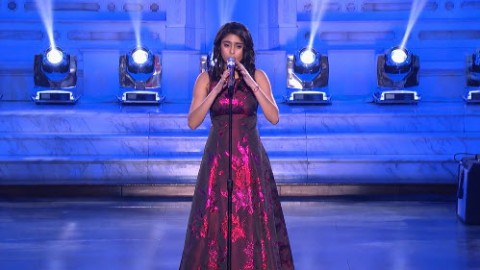 Sonika has been singing since she was just three, and she'll perform anywhere and when she is given the chance. Although auditioning for the American Idol judges is the biggest thing she's done so far, we could see a lot more big opportunities for this young siren coming up in the future. Sonika says her parents were born in India and came to the U.S. as children, starting out from nothing to build their lives in America. Now she wants to fulfill her own American dream.  (Read more on Sonika's backstory on her Top 24 profile page.)
Audition: For her American Idol audition, Sonika came all the way from Massachusetts to Colorado to try out for the judges. In a bit of a risky move, Sonika chose to sing "Look At Me" by American Idol winner Carrie Underwood for her audition. Turned out to be an excellent choice, as the celebrity panel seemed mesmerized by the beautiful young singer. "I love it, I love it a lot!" Jennifer Lopez proclaimed. Harry Connick Jr. called it a "perfect performance" and said he "saw somebody that I actually think could win this thing." Needless to say, it was a huge yes vote from all the judges for Sonika to get a Golden Ticket.
Hollywood Week Lines of 8 Solos: We don't have video from Sonika's first solo performance in Hollywood, but obviously she impressed the judges again enough to make it through to the Group Round.
Hollywood Week Group Round: In the group round, Sonika was part of the group 'Envy' — which was originally a foursome, but ended up as a threesome after some serious drama with one of their group members and her mother. Unfortunately all that group night stress ended up contributing to a terrible rehearsal. However, their actual performance was somewhat better, and at least good enough to move them all through to the next phase of the competition.
Hollywood Week Solo Round: Her group round performance may have been somewhat shaky, but Sonika was able to redeem herself very well indeed during her second Hollywood solo. Her performance of "One Last Time" by Ariana Grande reminded everyone why the judges loved her during auditions. Although they discussed Sonika's need to improve her stage presence, they all agreed she has a tremendous voice and natural talent. In the end, they just couldn't pass up the opportunity to move Sonika through to the Showcase Round.
Showcase Round & Final Judgement: For Sonika's Showcase performance, she gave a beautiful rendition of "I Surrender" by Celine Dion. However, the American Idol judges told Sonika they worry that there is something "missing" from her performances and they argued over it. They told Sonika there is "something that needs to come alive" while she's on stage. Even so, after much debate, the judges decided they wanted her in the Top 24 and would give her a chance to work on her performing.
Top 24 Semi-Finals Solo Round: In her Top 24 solo of "Safe & Sound" by Taylor Swift, we thought Sonika did take the judges' critique to heart. She seemed a bit more comfortable on stage and really seemed to be trying to get the audience to feel the lyrics of the song. Harry Connick Jr. thought it was a "really good job" and one of the "most emotional" performances from her that he'd seen. Keith Urban told Sonika that her "voice is so good." Jennifer Lopez told Sonika that she just needs to pick songs that will make her "heart song" to go with her amazing voice.
Top 24 Semi-Finals Duet Round: Sonika Vaid was paired up with American Idol winner Caleb Johnson for her Top 24 duet. The pairing was a little odd to us, but Keith Urban thought it was a great song for the two of them together. Jennifer Lopez also thought it was a really well suited song for the pair, but she told Sonika she really still needs to loosen up. Harry Connick Jr. could tell Sonika was nervous, but told her she did a good job.
Will Sonika Vaid make it through the next cut to be part of the American Idol 2016 Top 10? We'll bring you all the latest American Idol spoilers on the next round of the competition as they happen!