Before American Idol 2016 began, there didn't seem to be much out there about singer Thomas Stringfellow. While many other season 15 contestants have previously appeared on shows like The Voice or America's Got Talent, this seems to be the first reality TV show go around for Thomas. We couldn't even find a YouTube channel or songs on iTunes from Mr. Stringfellow, and his social media profile was rather low as well. Not usually what you would expect for an up-and-coming musician.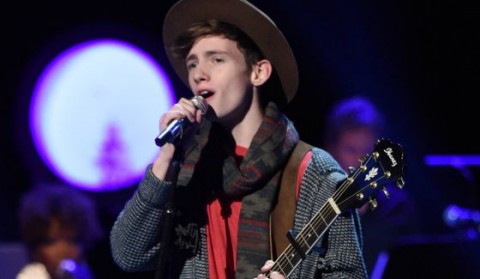 Generally, we usually find the contestants that end up in the finals on American Idol are mostly experienced performers with at least something of a fan base and social media following before they even come on the show. That's not always the case, of course, but more often than not, American Idol contestants have been putting themselves out there in the public eye as much as possible before they ever audition. Thomas Stringfellow, on the other hand, seems to have flown mostly under the radar except for a few videos posted to his Instagram account. (Read more on Thomas's backstory on his Top 24 profile page.)
Audition: Thomas may not have made much of a name for himself before coming on American Idol 2016, but he quickly proved he was definitely one to watch during his audition for the judges. His acoustic rendition of "Gimme Love" by Ed Sheeran was immediately captivating. His unique voice and boyish charm had the American Idol judges smiling, and they all really liked his artistry. Three yes votes put Thomas easily through to Hollywood, which thrilled his VERY large support group of family and friends.
Hollywood Week Lines of 8 Solos: Although he had only a few brief moments to impress the American Idol judges in his first Hollywood Week solo, he used them very well. They had no problem at all passing the talented young singer through to Group Round.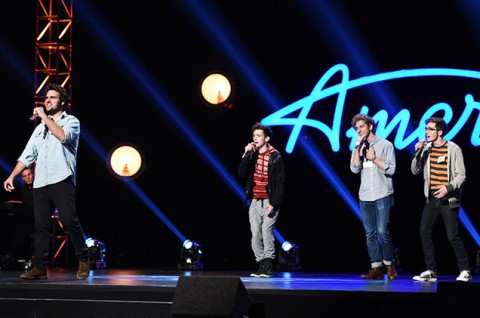 Hollywood Week Group Round: Unfortunately, we haven't been able to find Thomas' group round performance on video, but we did dig up a photo of him and fellow teammates Joseph Hendricks, Bryson Dunn, and Thomas Muglia. Of the four of them, only the two Thomases survived the cut to go on to the next solo round.
Hollywood Week Solo Round: For some reason, Thomas Stringfellow didn't get a whole lot of air time during Hollywood Week, so we don't have his second solo on video either. However, it was obviously strong enough for the American Idol judges to move him on to the Showcase Round.
Showcase Round & Final Judgement: Thomas was dealing with a bit of heartbreak at the beginning of his American Idol journey. His girlfriend apparently thought she would lose Thomas when he went off to compete, and so she broke up with him in advance. Seems like a thin excuse to us for a breakup, and we're wondering if she is regretting that now! But Thomas channeled his sadness into a terrific Showcase Round performance of "Story of My Life" by One Direction. Although Harry Connick Jr. told Thomas there were "better singers in the competition," he had a "special type of quality" they wanted in the Top 24.
Top 24 Semi-Finals Solo Round: Thomas showed off that 'special quality' with his Top 24 performance of "Creep" by Radiohead and had the audience screaming and cheering for him. Jennifer Lopez said that she really loved what he does and praised him for "pushing the envelope" with his voice. Harry Connick Jr. thought it was "tremendous" and "really, really strong." Keith Urban told Thomas he was "really compelling" and to just keep letting himself go on stage.
Top 24 Semi-Finals Duet Round: In his Top 24 duet, Thomas was paired up with former American Idol winner Nick Fradiani. The song the two of them performed, "Man in the Mirror" by Michael Jackson, was "definitely out my wheelhouse" according to Thomas.
Keith Urban thought Thomas struggled a bit because the song arrangement wasn't really what he would normally do. Jennifer Lopez also felt the whole thing just wasn't quite right for Thomas. Harry Connick Jr. said he was thankful for Thomas' solo Top 24 song being so "phenomenal" because he'd rather just forget this performance. We thought the American Idol judges were a bit harsh about Thomas's Top 24 solo, but agree the song was much more suited to Nick than it was to him.
Will Thomas Stringfellow make it through the next cut to be part of the American Idol 2016 Top 10? We'll bring you all the latest American Idol spoilers on the next round of the competition as they happen!