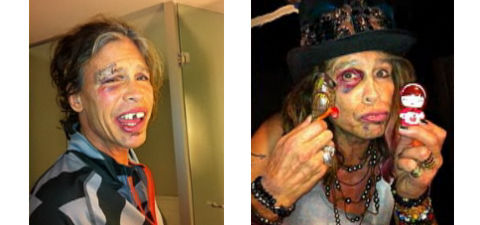 Steven Tyler took a nasty fall on Tuesday during his Aerosmith tour in South America, but he seems to be doing alright after performing the following night and even joining the Today Show via phone to do an interview about the injuries.
Tyler explained that it was definitely not a drug induced injury but rather a result of passing out following food poisoning. Steven Tyler returned to rehab in 2009, before his debut as an American Idol judge, but insists he has been sober since.
No matter how it happened, this looks really painful. Tyler lost two teeth, one of them being his front right tooth. He also received several stitches above his eye.
Watch the video below for pictures and discussion from Tyler and Matt Lauer: