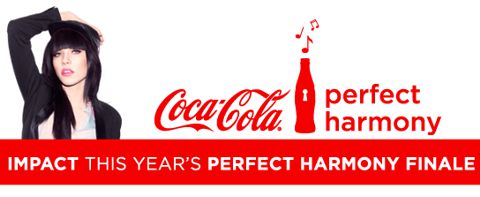 American Idol's "Perfect Harmony" campaign has entered into its 5th week and the details of Carly Rae Jepsen's live performance of her new single, "Take A Picture" are beginning to emerge. Over the course of American Idol Season 12, fans of the show are being asked to cast their votes and influence various elements of Carly's Live Finale performance.
This week, fans are asked to choose the lyrics they would most like to hear from among three possibilities, which can be found on the American Idol page devoted to the contest. The lyrics which receive the most votes this week will be included in the 1st stanza of the 2nd verse of "Take A Picture".
The voting in previous weeks resulted in a clear preference for the stage effects, with an overwhelming majority of 70% of voters choosing Pyrotechnics. Voter's during Week 2 of the campaign focused on a theme for the performance resulting in 68% choosing a Photo Shoot as the backdrop.
The current week's poll will close at midnight on Sunday so if you would like to give Carly Rae your opinion and influence her finale performance, head over to American Idol's page that has been set up exclusively to collect your votes.
When you vote, you will also be entered into the sweepstakes to win a trip to attend the American Idol Season 12 Live Finale scheduled for Wednesday, May
15, 2013.