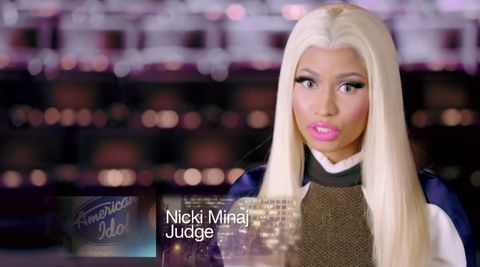 Ever since the start of American Idol Season 12, fans of the show have lit up AmericanIdolNet.com with lively debate over the merits and the pitfalls of Nicki Minaj and her presence on the judge's panel. Her freshman year as a judge on the popular reality show has been met with a deluge of comments, overwhelmingly in favor of replacing her next season. Could the show's producer, Nigel Lythgoe finally be paying attention and recognizing that Nicki's inappropriate remarks are at least part of the reason for the show's steadily declining ratings. In a recent interview Nigel said, "I don't think we have good chemistry with the judges." "I miss the camaraderie we have had in the past".
I have to agree. I also miss the relaxed and often entertaining banter between Steven Tyler, Jennifer Lopez and Randy Jackson. There were no disparaging remarks made nor was there any open hostility between them. They seemed to project a vibe of mutual respect for each other, both personally and professionally.
Nicki's twitter remarks after Top 10 contestant Devin Velez was voted off were an example of her condescending and often superior attitude. We watched her tell Devin, Burnell and Lazaro to "get off the stage" after a disappointing group performance. When fan favorite, Angie Miller changed things up with her performance of "Shop Around", Nicki's harsh comment of "Don't try to give us another side, we didn't ask for another side!" was enough to elicit a look of distaste from the great Smokey Robinson, who mentored the contestants during "Motown Week". Nicki and fellow judge, Mariah Carey have had a contentious relationship from the very beginning of Season 12.
Mariah claimed that Nicki threatened her with physical harm and was compelled to hire extra security as a result. On this past Wednesday night's Idol episode, Nicki disagreed with Mariah's assessment of Top 5 contestant, Kree Harrison's performance of "She Talks To Angels" and told Mariah to "simmer down, sir". This insulting comment enraged many of Mariah's fans who believe that Nicki should show Mariah nothing but the greatest respect, if not personally than certainly as an artist.
It has been reported that even the crew of American Idol is fed up with Nicki's diva-like antics, including instigating catfights with Mariah, arriving late for a live show and walking out on tapings of the show.
Nicki's confrontational nature is not limited to her interactions with her fellow judges or the show's contestants. She has been involved in a feud with rapper, Lil Kim, which began when Kim accused Nicki of copying her image. The two have been exchanging un-pleasantries through their songs, including Nicki's "Roman's Revenge" featuring megastar rapper, Eminem. Nicki has been quoted as saying, "Everytime you (Lil Kim) in the news, it's cause you getting at somebody!" "When I see your name on Billboard, that's when I'll respond to you." "Other than that, goodbye. It's Barbie, b%tch!"
Nicki Minaj was born Onika Tanya Maraj in Saint James, Trinidad/Tobago and grew up in Queens, New York. She graduated from Fiorello H. LaGuardia High School of Music and Art (the same school that inspired the movie, "Fame"). She was discovered via her My Space page by Dirty Money CEO, Fendi, who used her in his urban DVD magazine, "The Come Up". Soon after, Lil Wayne signed her to his Young Money Label. Nicki built a reputation as a talented rapper who also had songwriting abilities. Several mixtapes were released featuring her songs. Nicki was featured as a "cameo" singer in 7 songs that appeared on Billboard's Hot 100 in 2010. She became instantly recognizable to mainstream America after her performance alongside Madonna during the Super Bowl XLVI halftime show in 2012.
Nicki was nominated for several Grammys for her debut album, "Pink Friday" which reached platinum status. Her single entitled, "Super Bass", sold over 4 million copies. The album was re-released after a successful tour as "Pink Friday:Roman Reloaded" and the single, "Starships" was one of the bestselling singles of 2012. The album reached the top of the rap, R&B and pop charts. "Roman" refers to one of her alter egos, "Roman Zolanski". After completing another successful tour the same album was released yet again in a "Re-Up" version with 8 new tracks.
Her legions of fans are known affectionately as "Barbz". This term is reportedly derived from another of Nicki's alter-egos, The Harajuku Barbie aka Harajuku Barbz, Barbiez and HBz. In the interest of being thorough, Nicki's gay male fans are commonly referred to as Ken Barbz and straight male fans are known as Boyz.
Miss Minaj has earned 6 BET awards, 4 American Music Awards and 2 MTV Music Awards. Nicki has parlayed her success as a rapper into the beginnings of a career in the movie industry, most notably with a voice-over role in "Ice Age 4: Continental Drift". There is a rumor going around that she's working on a role in Ridley Scott's upcoming film, "The Counselor" starring Brad Pitt.
Nicki has a charitable heart and has given back to her community by donating $15k to the Food Bank for NYC following Hurricane Sandy and she also held a turkey drive at her alma mater PS 45 in New York City.
Nicki has her share of fans to be sure, but are they representative of the viewers and voters that tune in to American Idol each week? It would seem not, when you consider the avalanche of criticism that has come down on her and the producers of American Idol week after week.
American Idol airs in a time slot supposedly reserved for programming suitable for the entire family. Many viewers have commented that they have not only stopped tuning in but also have stopped allowing their children to watch the once popular show, specifically because of Nicki's off-color remarks. Her comments range from being covetous of a contestant's wardrobe to criticizing their choice of make-up, commenting on physical characteristics and of course, her often inexplicable nicknames.
When Nigel Lythgoe was recently asked if Nicki would be invited back next season as a judge on Idol, he responded, "By me, she certainly will be!"
American Idol provides a golden opportunity for unknown talent to introduce themselves to the world and provides us with outstanding entertainment. The producers know they will have to make some changes for next season if the show is to continue. They're searching for a way to reclaim their past glory as well as their lost viewers and voters. Could replacing the judges be the solution? Who would you like to see on the judge's panel next season?
Source: FoxNews.com, AmericanIdol.com, Gigwise.com